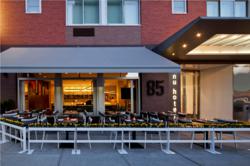 "Brunch is Brooklyn's favorite meal — we are thrilled to be able to offer it. And, let's face it — nothing beats drinking a Bloody Mary on a Brooklyn sidewalk." said Javier Egipciaco, NU Hotel Brooklyn's general manager.
Brooklyn, NY (PRWEB) July 11, 2012
Misdemeanor, the bar and lounge located in NU Hotel Brooklyn's lobby, has just announced that it is now serving brunch on Saturdays and Sundays, beginning at 11:30 a.m., in addition to its all day offerings of tapas and specialty cocktails. Now, guests and Brooklyn neighbors can enjoy an innovative brunch menu that offers traditional fare with a twist − Brooklyn brunching has never been better.
"We've only been open since May, but from day one everyone has asked about brunch," said Javier Egipciaco, NU Hotel Brooklyn's general manager. "Brunch is Brooklyn's favorite meal — we are thrilled to be able to offer it. And, let's face it — nothing beats drinking a Bloody Mary on a Brooklyn sidewalk."
A tasty breakfast sandwich of Bacon and Cheese Scrambled Brioche made with organic eggs, or a designer burger made with three cheeses − the delicious trifecta of cheddar, jack and mozzarella − are just a few of the new additions. A selection of brunch cocktails has also been added, including a Bloody Mary concocted with the Employees Only blend of spicy tomato and cardamom.
The menus at Misdemeanor, which opened in May of 2012, are the result of collaboration between two New York City food and beverage stars: Master Mixologist Milos Zica of Employees Only and Chef Jehangir Mehta of the highly acclaimed Graffiti and Mehtaphor restaurants. "Chef Mehta and I coordinated our menu to make sure we had cocktails that would match the food very well for a complete experience," said Zica of the creative process.
Zica gained notoriety when he was chosen as New York City's representative for the NBC reality show "On the Rocks." He designed all 10 of the bar's specialty cocktails with flavors as diverse as the spirits used to make them. Misdemeanor's signature drink, the "NU York Thymes" is made with a delectable combination of tequila, St. Germain, Gosling's Ginger Beer, raspberry puree herbs, and ginger and fruit wisking. The cocktails, which are made with only the freshest ingredients, rotate seasonally.
Mehta also attained celebrity status through national television appearances, including the Food Network shows "Iron Chef America" and "The Next Iron Chef." For Misdemeanor's all-day menu, Mehta created a number of specialty tapas, including Chili Thyme Cashews, Mustard Seed Shrimp with a Cucumber and Yogurt Sauce and Beef Braised Pineapple, Lamb and delicious Pork Belly Buns.
The food and drink are served against the backdrop of a new modern space designed by the Riscala Agnese Design Group, who also worked on Johnny Utah's in Rockefeller Center and Philadelphia's Triumph Brewery. The design has a modern industrial style that is utilitarian in function. Every item in the cafe was custom designed and made by local artisans.
Misdemeanor is open daily from 12 p.m. to 12 a.m. and brunch is served from 11:30 a.m. to 3:30 p.m. on Saturday and Sundays. Misdemeanor offers both lounge and sidewalk seating and is available for special events.
About NU Hotel Brooklyn:
NU Hotel Brooklyn is an environmentally conscious, first-class hotel, conveniently located at the intersection of four happening Brooklyn neighborhoods (Downtown Brooklyn, Boerum Hill, Cobble Hill and Carroll Gardens). NU Hotel Brooklyn manages to encapsulate that old school Brooklyn community vibe of having exquisite international cuisine, one of a kind boutique shops and world famous entertainment, all within a stone's throw from where you comfortably rest your head at night. NU Hotel is owned by Hersha Hospitality Trust (NYSE: HT) and managed by HHM formerly known as Hersha Hospitality Management.
About The Independent Collection:
The Independent Collection is a growing collection of smaller, more intimate boutique lifestyle hotels located in truly unique neighborhoods of gateway cities across the US. The hotels of the Independent Collection are developed for the independently minded traveler and invite guests to experience the true spirit of the city.
About HHM:
HHM, formerly known as Hersha Hospitality Management, operates 89 hotels across the United States. HHM provides turnkey hotel management, asset management and receivership for properties with leading brand affiliations through Marriott, Hilton, Hyatt, Starwood, and Intercontinental Hotel Group. HHM also operates 14 independent hotels ranging from The Rittenhouse Hotel, a AAA Five Diamond property in Philadelphia, to the oceanfront Postcard Inn in the Florida Keys. Its highly experienced team is accustomed to serving as a fiduciary to publicly traded companies, joint ventures, institutional real estate owners and private investors. Additional information on HHM can be found at http://www.hershahotels.com.
For further information, please contact NU Hotel Brooklyn at (718) 852-8585, http://www.nuhotelbrooklyn.com
For further press inquiries, contact: Mary Gollhofer at (267) 238-5025, mary(dot)gollhofer(at)hersha(dot)com.