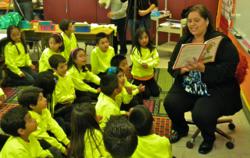 Ms. García has been a key ally in the effort to improve the quality of education and instruction in L.A. Unified
Los Angeles, CA (PRWEB) July 11, 2012
L.A. area non-profit organizations will celebrate 10 years of progress and achievements in education reform with a special reception honoring Los Angeles Unified School District (LAUSD) Board President Mónica García. The reception will be held on Friday, July 13, 2012 from 9 a.m. to 10 a.m. at the Los Angeles Area Chamber of Commerce, Bank of America Room, located at 350 S. Bixel Street, in Los Angeles. Hosting non-profits include: Alliance for a Better Community, Boyle Heights Learning Collaborative, Camino Nuevo Charter Academy, Community Coalition, Families In Schools, InnerCity Struggle, Partners for Developing Futures, United Way of Greater Los Angeles, and Youth Policy Institute.
During the event, Ms. García will be recognized for her work and commitment to improve the quality of education for all children. Under her leadership the District has made great strides to meet the needs of its student population by building new schools, improving facilities, and much more. These achievements include: passing of a $7 Billion School Construction Bond – the largest in history; building and opening 113 new schools, and adding more than 144,000 new seats for students; converting 207 schools to a traditional school calendar from a multi-track calendar designed to accommodate overcrowding; decreasing involuntary busing by 98%; developing 239 acres of green space, 189 acres of hard surface play areas, and 505,000 square feet of gymnasium space, and adding 13 swimming pools.
Initiatives and policies approved by the District under Ms. García's watchful eye have also lead to improved academic instruction, student outcomes, an increase in graduation rates, community engagement, and more. For example, the District advanced and stressed the importance of key district-wide instructional initiatives like the Parent Report Card and MyData, A-G Access for All, and the pilot Educator Growth and Development Cycle.
"Ms. García has been a key ally in the effort to improve the quality of education and instruction in L.A. Unified," said Angelica Solis, ABC Executive Director – one of the organizations honoring Ms. García. "With her support, communities and non-profit organizations that work in the field of education developed the Belmont Zone of Choice, and built new schools in high-density and economically disadvantaged communities. She has been at the forefront of reform, advocating for our students, families and communities. We are honored to bestow this award on Ms. García," added Solis.
Although there is still much to do to continue to improve student outcomes across the district, according to many in the field, a strong leadership and key partners that support education innovation and reform toward student academic success will continue to advance education in the right direction.
Confirmed guests include: United Way of Greater Los Angeles President and CEO, Elise Buik, InnerCity Struggle Executive Director, Maria Brenes, SEIU Local 99 Special Assistant to Executive Director Courtni Pugh, labor leaders and others.
For more information about the 10-Year Reception honoring Ms. García or to interview a spokesperson for the Alliance for a Better Community (ABC) please contact Evelyn Aleman by calling 818.943.2481 or via e-mail at evelyn(at)mipr(dot)net.
# # #
The Alliance for a Better Community is a non-profit organization founded by a coalition of leading organizations and civic leaders that promotes equity in education, health, economic development and civic participation throughout the Los Angeles region.