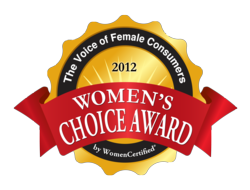 "We'd like to thank Women Certified for recognizing our dealership, and we look forward to continuing to earn our reputation as an auto dealer who delivers elite customer service to those in need of auto sales and service."
Watertown, MA (PRWEB) July 12, 2012
WomenCertified®, the voice of the female consumer, is recognizing Toyota of Watertown as a Top Dealership for Outstanding Customer Experience based on a WomenCertified® Female Customer Satisfaction survey that determined Toyota of Watertown meets and exceeds the expectations of female customers.
Toyota of Watertown received excellent scores in several areas, including the overall sales experience that their customers received. In fact, 97 percent of the women polled said they would definitely recommend Toyota of Watertown to their family and friends.
"Recognizing the top women-friendly auto dealerships nationwide is important to our mission at WomenCertified, where it's our goal as women to help other women make smart choices", said Delia Passi, Founder of WomenCertified and author of Winning the Toughest Customer: The Essential Guide to Selling to Women. "We are proud of Toyota of Watertown for taking ownership of their customer experience and creating a business environment that provides exceptional service both to women and men alike."
As a Top Dealership, and because of its high consumer satisfaction scores, WomenCertified is further honoring Toyota of Watertown with the Women's Choice Award, signifying that at least 4 out of 5 women would highly recommend this dealership to others.
"Toyota of Watertown is honored to be a part of this elite group of dealerships and businesses. Being the first recipient in New England to receive this award from Women Certified demonstrates our staff's commitment to providing a truly outstanding experience for all our customers," said General Manager Adam Skolnick. "We'd like to thank Women Certified for recognizing our dealership, and we look forward to continuing to earn our reputation as an auto dealer who delivers elite customer service to those in need of auto sales and service."
To view the full list of Top Dealerships, visit http://www.womencertified.com.
About WomenCertified®
WomenCertified®, the voice of female consumers, awards businesses and brands of choice among women with the Women's Choice Award. WomenCertified represents the collective voice of women so they can help each other identify businesses that deserve our loyalty and referrals. The Award is based on consumer surveys, as well as research conducted in partnership with the Wharton School of the University of Pennsylvania on what drives the consumer experience for women vs. men, which led to the development of the Female Consumer Satisfaction Index. Visit http://www.womencertified.com