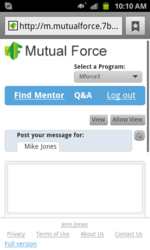 'Great product' - Career services director of an ivy league university
Warren, NJ (PRWEB) July 11, 2012
Career centers and alumni relations offices of universities have been seeing the benefit of alumni mentoring for a long time. With alumni mentoring, alumni are more engaged with the university and students get a great resource to network and find jobs or internships.
What has been lacking in this space is an online tool which is easy to use for the alumni and students and scale appropriately. There is a lot of time commitment by the alumni, students and university coordinators with face to face mentoring and with alumni spread throughout the globe, it becomes a challenge for universities to arrange face to face mentoring events. There is a privacy issue also when students and alumni use their personal phones and emails to communicate which deters more engagement.
Mutual Force's web based alumni mentoring platform not only provides communication medium for students and alumni to exchange information thus overcoming the privacy issue but also a robust set of tools for the universities to track the progress of the mentoring. Students and alumni can communicate securely using messaging and video chat on this platform. With the introduction of the mobile app, communication becomes much more easier among the busy alumni and students which will drive more engagement among students and alumni. Students can now benefit from invaluable input from alumni who have been in a similar boat and provide valuable career advice and professional network which can result in a job or internship. Students also learn about the professional world and learn about what it is like to work for a particular company. Moreover this platform also provides a tool for students to do virtual internships which provides great flexibility for students to do internships while avoiding commute and expensive city living.
More details about the mobile app release can be found in this Mutual Force blog here.
About Mutual Force:
Mutual Force which is based in NJ provides innovative alumni mentoring and virtual internships platform solutions to career services offices and alumni relations offices of Universities and Colleges.