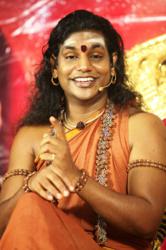 Vedic Culture does not worship idols. We worship through idols. Through the idols we connect with the Ultimate Divine.
Los Angeles, CA (PRWEB) July 11, 2012
Day 6 at 21 Day Inner Awakening Retreat, India:
Question: Why am I attributing my joy, pleasures to objects and not to my inner being?
His Holiness Paramahamsa Nithyananda responded saying, "It is the patterns that stops one from attributing the joy to oneself. From the young age, one is made to believe from their parents that joy comes from outside. This is an inherent pattern. This is because neither the parents believed, nor their forefathers believed that joy comes from the self and not from outside objects. This is simply the belief given to human beings as they grow up.
Pleasure comes from outside is Mass Hysteric Belief. This Mass Hysteric Beliefs are only called as maya, delusion. Pleasure comes from inside is the Truth.
These are some of the mass hysteric beliefs. The first mass hysteric belief is currency. The mass has decided to be in it hysterically without using logic. How many people have the courage and confidence because of the currency they have. Currency is not supposed to be the source of one's strength. One's own spiritual state expressing the infinite Power of Consciousness is supposed to be the source of one's strength.
The only solution for Mass Hysteric Beliefs is for India to revive itself spiritually and radiate and share the spiritual truths and experiences with the world."
To reveal the mystical sciences of the yoga-vedanta tradition, and reach the benefits of these extraordinary sciences to humanity, a decade ago Paramahamsa Nithyananda, opened the door of his Vedic laboratory to the modern day scientists & researchers
About His Holiness Paramahamsa Nithyananda:
Paramahamsa Nithyananda is a global leader in the science of Enlightenment & Inner Awakening. In the past ten years attempts have been made to map Nithyananda's brain, his energy levels, his mitochondria, his DNA. The scientific fraternity is continuously stunned by the results of what they can evaluate.
In a recent study, blood samples from a group of Inner Awakening participants aged above 50 years were subjected to a well-known protocol called MTT Assay for assessment of cellular energy levels.
100% of participants of this particular study recorded a drastic increase in energy levels, averaging 1300%. Such an increase is clearly impossible through any other known means such as exercise, yoga or fitness training, which can affect a maximum of 40% increase in cellular energy.
Clear, dynamic and modern in approach, Paramahamsa Nithyananda's teachings have already transformed 15 million followers in 150 countries with the fastest growing spiritual community around the youngest incarnation.