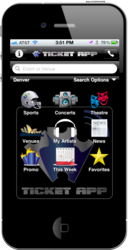 This new integration and partnership will allow Mobile Ticket App to help more ticket brokers increase their ticket sales and engage their clients in this growing mobile economy
Las Vegas, Nevada and Denver, CO (PRWEB) July 11, 2012
Mobile Ticket App, the leading provider of iPhone and Android apps and mobile ticket websites for secondary market and ticket brokers, announces a new partnership with Ticket Evolution, a broker owned ticketing software company.
With the ability to find and buy tickets on all smartphones this new partnership will help Ticket Evolution clients increase ticket sales and provide better service to the retail community. Mobile ticket apps for Ticket Evolution clients are new retail facing ticket apps that work natively on iPhones, iPods, iPads and Google Android phones. BlackBerry, Windows Phones and other smartphones also have access to the mobile ticket shopping experience through Mobile Ticket App's mobile ticket websites. Mobile Ticket App currently supports more than 175 broker clients.
"We are very proud to have integrated with Ticket Evolution and their ticketing software. This new integration and partnership will allow Mobile Ticket App to help more ticket brokers increase their ticket sales and engage their clients in this growing mobile economy," said Mark Hunter, Vice President of Mobile Ticket App. "Apple and Google have each activated more than 100 million smartphones and are activating more than 800,000 devices a day. Mobile is huge and any company selling services online must pay attention to the growth of mobile. We help ticket brokers enter the mobile space and sell more tickets. Ticket Evolution helps us touch more brokers and in turn we help Ticket Evolution with a retail mobile sales tool."
"We are excited to partner with Mobile Ticket App so that the ticket broker community we support has access to this valuable mobile sales tool," said Ticket Evolution Co-Founder, Drew Gainor. "Our 125 broker owners and nearly 500 broker clients see the value in having mobile applications and mobile websites to support their clients and the growing mobile usage of the retail community."
About Mobile Ticket App
Mobile Ticket App is a mobile software company that supports the secondary market and ticket brokers through the development of semi-custom applications for iPhones, iPods, iPads, and Google Android phones. Mobile Ticket App also builds mobile websites, which help ticket brokers service their retail clients and provide the ability to find and buy tickets to events throughout the world. In addition, Mobile Ticket App also builds custom applications for the Ticket and Entertainment Industry using their years of experience of ticket application development. http://www.mobileticketapp.com
About Ticket Evolution
Ticket Evolution is a ticketing technology company that has developed a revolutionary, automated ticket uploader application. This technology has changed the modus operandi for secondary market ticket brokers and aggregators by sending their inventory files to multiple exchanges. There are many features included with this technology. The point of sale system integrates real time purchasing, and automatically coordinates with inventory, shipping, record keeping, and order management for maximum user functionality. In addition, Ticket Evolution has integrated mobile technology and third party application programming interfaces including accounting suites and marketing tools to increase the efficiency of the program. Learn more at http://www.ticketevolution.com.