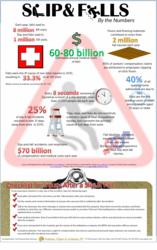 New York, NY (PRWEB) July 16, 2012
Slip and fall injuries are more common than most people realize. And while many people may try think slipping and falling at work or in a public place is simply embarrassing, slip and fall injuries are no laughing matter. People often make the mistake of assuming that their injuries are not serious, but learn soon after a fall that significant damage has occurred.
In order to help increase public awareness when it comes to the everyday hazards that lead to broken bones, internal or spinal cord injuries, brain damage or even death, personal injury law firm Trolman, Glaser & Lichtman has created a new infographic about slip-and-fall accidents.
The medical cost of slip-and-fall incidents nationwide is thought to be more than $60 billion a year. According to the National Floor Safety Institute, research has found that that there are five major causes of slips, trips and falls. The most frequent cause of a slip-and-fall or trip-and-fall accident — whether it is at home, at work or on public property — is the walking surface. Slippery flooring or lack of adequate floor mats leads to about 55 percent of all slip-and-fall injuries. The other four major causes, in decreasing order, are footwear, improper hazard warnings (i.e., wet floor or watch your step signs), improper training and fraud.
For more information about slip and falls, and the steps to take after someone has been injured in a slip-and-fall accident, check out the infographic Slip and Falls: By the Numbers.
About premises liability law firm Trolman, Glaser & Lichtman:
The slip-and-fall injury attorneys at Trolman, Glaser & Lichtman, along with their team of experienced support staff, have represented thousands of injured New Yorkers in the past 40 years and obtained more than $1 billion in settlements and verdicts for their clients. The firm handles personal injury cases throughout New York City and the five boroughs, including cases involving apartment accidents, premises liability, nursing home negligence, elder abuse, motor vehicle accidents, medical malpractice, defective medical devices and dangerous drugs.
To contact the personal injury attorneys at Trolman, Glaser & Lichtman, visit the firm's slip and fall website at http://www.slipandfallnyattorney.com or call 866-846-9469.