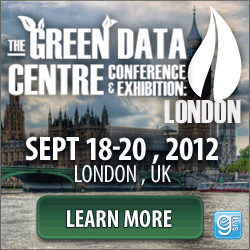 Essential resource for anyone in the data centre industry!
London, UK (PRWEB) July 12, 2012
After an incredibly successful 2011 UK launch, The Green Data Centre Conference and Exhibition returns to London for the second annual installment. The conference continues to grow in popularity amongst industry professionals and many are calling it the most comprehensive event of its kind.
'Greening' a critical facility through innovative design, building and operational techniques is a process, and the first step of this process is education. GDCON offers data centre and facility owners and operators the most complete and applicable solutions needed for today's ever-changing data centre environment. Industry experts, interactive workshops and case study presentations will be used to demonstrate the cost saving benefits of the green data centre movement.
Featured Speakers At The Green Data Centre Conference London Include:

Tony Bishop, Former Managing Director, Global Head of Datacenter Operations & Strategy, Morgan Stanley
Garry Cane, Associate Director, CBRE
Tate Cantrell, CTO, Verne Global
Steve Weiner, Head of Data Centre Offerings, Fujitsu
Michalis Grigoratos, Energy and Sustainability Management Principal, HP
Bob Plumridge, Chairman, SNIA, CTO EMEA, Hitachi Data Systems
A full scope of data centre topics will be covered, from retrofitting existing technologies to building a next generation facility from the ground up. Attendees will be provided with actionable solutions that will drive the ROI on your infrastructure investment.
Conference highlights and topics covered include:

Maximising power and cooling efficiency
Renewable energy and free cooling options
Data centre capacity planning
DCIM, measurements and metering techniques
Design, building and operational strategies
The Green Data Center Conference keeps the focus on educating end users through peer-to-peer interaction and industry analysis. Sponsors for the London event include some of the most innovative companies worldwide, including Scheider Electric, ICS Air Conditioning, Minkels, and Cool Therm Limited.
For more information including a full speaker lineup and conference agenda please visit GDCON online at http://www.greendatacenterconference.com. For registration and sponsorship information contact Jessica Drew at Jessica.Drew(at)gsmiweb.com or call 888.409.4418 ext. 708 or +44 33 0808 0198
About Global Strategic Management Institute:
GSMI is a leader in the industry of executive education, creating conferences, summits, workshops and training sessions that combine rich learning environments with the opportunity to network with today's most relevant thought- leaders, speakers and practitioners. GSMI's annual events have reached 70% of the Fortune 500 companies, in over 30 countries, and cover topics that today's leaders find most challenging and inspiring. More information about Global Strategic Management Institute and the Green Data Centre Conference can be found at: http://www.gsmiweb.com