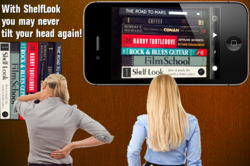 With ShelfLook, you may never tilt your head again!
Apopka, FL (PRWEB) July 12, 2012
Ever wonder why you have to tilt your head to read book titles at the bookstore or library? Ever wish there was a better way? Azymous Interactive founder David Kahan did, and the result is ShelfLook, a highly regarded iPhone and iPad app that conveniently displays book titles horizontally for easy reading.
Azymous Interactive has released new versions of ShelfLook for both the iPhone and iPad, including the debut of free versions of ShelfLook. Azymous has also released a descriptive YouTube video about ShelfLook at http://youtu.be/jlxoHXlERsA
ShelfLook is exceptionally easy to use. Users launch the ShelfLook app, hold the iPhone or iPad horizontally in front of them, and look through the screen. Book titles are now conveniently displayed horizontally on the screen for easy reading.
When viewing lower shelves, rather than crouching down, ShelfLook Pro users can remain comfortably standing by pushing the record button and panning the iPhone or iPad across the lower shelf. When ready, they can play back a video of the book titles, clearly displayed and easy to read.
Originally the idea for ShelfLook came about because Azymous Interactive founder Kahan was book shopping with his family and was suffering from a pinched nerve in his neck. Bending his head sideways to look at book titles was, as Kahan relates, "literally a pain in the neck!" From that trip the idea for ShelfLook was born.
"Customer response has been overwhelmingly positive", says Kahan. "And we are especially pleased that ShelfLook is of great help to the elderly or those with physical limitations."
Mary Anne Hodel, Director and CEO of the Orange County Florida Library System, says ShelfLook is "Very helpful for anyone trying to read titles on shelves. And it can be particularly helpful for those with disabilities."
Some users are utilizing ShelfLook at locations other than bookstores or libraries. Christine Kubert, a ShelfLook iPhone user, says "This is a great app for people like me that are short or have a difficult time stooping down. I had both knees replaced and so I usually just sit on the floor of the grocery or drug store when I want to see the products on the bottom rows. Well, not anymore, not with this app. Finally! Someone came up with a great idea."
Pricing and Availability
ShelfLook v1.1 Pro is available for $0.99 (USD) on the iTunes App store at http://itunes.apple.com/app/id521960134?mt=8
ShelfLook for iPad v1.1 Pro is available for $0.99 (USD) on the iTunes App store at http://itunes.apple.com/app/id530193847?mt=8
ShelfLook Free v1.0 is available at no charge on the iTunes App store at http://itunes.apple.com/app/id540258499?mt=8
ShelfLook for iPad Free v1.0 is available at no charge on the iTunes App store at http://itunes.apple.com/app/id541486581?mt=8
Device Requirements
iPhone or iPod Touch running iOS 4.3 or higher, with camera.
iPad running iOS4.2 or higher with camera.
Azymous Interactive specializes in engineering creative apps for Apple iOS and Android based platforms.
Azymous Interactive was founded by David Kahan, an early pioneer of custom video conferencing and interactive multimedia technologies. Azymous recently released two highly rated apps, ShelfLook and ShelfLook for iPad. ShelfLook is available as both a paid and free app for iPhones and iPads. Azymous Interactive's engineering team has worked together for over 25 years, and have designed and engineered groundbreaking software products such as the iPhysicianNet Video Conferencing Application, National Education Training Group's Agility Application Development System, the Spartan King Air Turbo Prop Engine Simulator, and a family of science based applications with Scientific America and Simon and Schuster Interactive. Azymous Interactive is also the developer of the PC based AzPos point of sale system for businesses, including support for customizable badge scanning and processing for larger institutions.