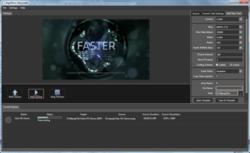 Clearwater, Florida (PRWEB) July 11, 2012
Vela Research announced the ArgoNavis Universal Transcoding solution, designed for the play-to-air, content distribution, VOD, ad insertion, local origination and education applications of broadcasters, cable operators, and other demanding users worldwide. The ArgoNavis platform is designed to simplify your file-based workflow in a multi-format, multi-screen and multi-provider environment by delivering broadcast quality solutions for your content delivery and distribution value chain. The ArgoNavis Transcoder is ideally suited for local origination, digital signage, studio contribution, news distribution and ad insertion.
The ArgoNavis Universal Transcoding system is an advanced professional transcoder with the ability to perform faster than real-time transcoding across myriad file formats -- SD and HD, MPEG-2, MPEG-4 H.264, Apple ® ProRes, VC1, Windows Media, MXF, DV, Mov, AVI, etc. The ArgoNavis Transcoder provides a scalable architecture and is offered as both an add-on module to the ArgoNavis decoder system, and as a stand-alone solution. The system seamlessly integrates into existing workflow environments in broadcast studios, cable master control, post-production studios, and most types of content-preparation and distribution sites. It allows for the convenient up-conversion of SD materials to HD, or down-conversion of HD content, eliminating the time, expense and disruption of re-encoding video content, and providing operators much greater flexibility and capabilities than ever before.
The ArgoNavis Transcoder cost-effectively performs faster-than-real-time transformations of your content to streamline your studio, production and distribution environment and workflow. In addition to upscaling and downscaling your content as needed, and the desired transrating, the ArgoNavis supports all of the following formats:
Format – From/To:
From Apple ProRes............. to H.264, MPEG-2 and Windows Media SD & HD
Mov/QuickTime ............. to H.264, MPEG-2 and Windows Media SD & HD
H.264/AVC ............. to H.264, MPEG-2 and Windows Media SD & HD
MPEG-2 ............. to H.264, MPEG-2 and Windows Media SD & HD
MXF/IMX/TS/PS/ES............ to H.264, MPEG-2 and Windows Media SD & HD
DV 50/100 ............. to H.264, MPEG-2 and Windows Media SD & HD
AVI ............. to H.264, MPEG-2 and Windows Media SD & HD
A full product spec sheet can be found here. Kevin Grubbs, Vela's Director of Engineering said, "true to the Universal theme of Vela's new series of solutions, the ArgoNavis Universal Transcoder system seamlessly transcodes, upconverts, downconverts and transrates content across all of the essential formats and content types that today's file-based workflow environments have to be capable of handling. We have built in a great deal of flexibility into the ArgoNavis Transcoder system's software and user interfaces. In order to make the solution a well-integrated part of the work flow, the system is set up to support batch processing, watch folders and automatic FTP transfers."
Mike Reddy, Vela's President said, "the Vela team is delighted to bring this high-performing, versatile and extremely cost-effective transcoding solution to our customers as part of the ArgoNavis Universal Series. For 18 years, Vela Research has been known for high-performance solutions that satisfy the most demanding requirements of customers in broadcast, cable and professional video worldwide. It is neat for us to now bring out this ArgoNavis Universal Series of solutions that will offer the highest performance, significant flexibility, and exceptional affordability, while meeting the most stringent of our customers' requirements."
Users in the broadcast, cable, content distribution, post-production, education, digital signage and healthcare markets interested in further information or in test-driving the ArgoNavis Transcoding solution are invited to contact Kevin McDowell at 954-558-2063 (kmcdowell(at)vela(dot)com).
About Vela:
Vela® is an Emmy® award winning company offering a complete range of high quality SD and HD products for the broadcast, cable, post production, enterprise and education markets. Vela designs and manufactures system and board level solutions used in a variety of media applications. The board level products are also integrated into advanced systems and video servers offered through Vela and its partners. Over the past 18 years, Vela has earned recognition by virtue of the trouble-free, high-performance and cost-effective solutions in use in demanding customer environments worldwide. Vela is based in Clearwater, Fla., USA, and is on the web at http://www.vela.com.