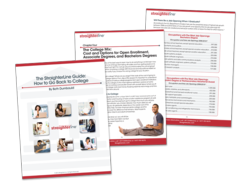 The fastest and most cost effective way to finish a degree in nursing is to get as much college credit online as possible.
Baltimore, MD (PRWEB) July 11, 2012
In response to the growing demand for jobs in the nursing sector, StraighterLine (StraighterLine.com) has released a new eGuide: Start Training Today for a Nursing Career. The free 25-page guide helps students and nurses alike identify key steps in obtaining employment. The guide answers questions like "What classes do I need to take to become a nurse?", "Where are the nursing jobs?" and "How much does a nurse make?"
"As the U.S. population ages, there won't be enough nurses to fill the demand," explains Steven Pope, one of the guide's co-authors. "Add to that the additional regulations requiring nurses to go back to school to obtain more advanced degrees and you get a bottleneck in the education industry. This guide helps nursing job seekers squeeze through that bottleneck."
Pope has spoken to more than 1,500 nurses returning to school to upgrade their ADN/RN into a BSN or MSN. He believes the fastest and most cost effective way to finish a degree in nursing is to get as much college credit online as possible. While waiting to get into a nursing program he suggests taking required classes like anatomy and physiology, nutrition, biochemistry, and statistics online through distance learning programs such as StraighterLine.
The guide, which you can download at http://go.straighterline.com/nursing-career-guide/, contains useful advice like: "As you consider training to become a nurse, it is wise to think about more than how much you can earn annually. According to the U.S. Bureau of Labor Statistics, demand for Registered Nurses will grow faster than the average for other occupations through year 2018." And this: "You have many options when it comes to a career in nursing – and a variety of entry points into the field. What this means for you, as a prospective nursing student, is that you can begin work as a nurse en route to finishing your degree, whether your ultimate goal is an associate, a bachelor's, a master's, or even a doctorate."
Start Training Today for a Nursing Career is the latest in a series of e-Guides from StraighterLine including How to Start a Career in Healthcare, Parents' Guide to Online College Classes, How To Go Back To College, and Getting into College Made Easy. Adult learners going back to school and traditional students starting college can download any of these guides for free at StraighterLine.com, where they can find other resources to help them start or complete college with greater convenience, at a lower cost, and with less financial risk and student debt. Reports on education-related topics are added weekly to the site. Interested students can also sign up for the StraighterLine newsletter, which contains links to new articles and eGuides as they are released.
As an online college course provider, StraighterLine offers extremely flexible and affordable courses that allow students to save up to 90% on their first year or two of college, helping ease the burden of balancing a busy lifestyle while earning a college degree. Additionally, five StraighterLine courses are approved by the College Board as Advanced Placement courses, and others are excellent alternatives to taking CLEP exams.
Currently, the StraighterLine curriculum consists of 38 entry-level college courses including College Algebra, Precalculus, Calculus I, Calculus II, Business Writing, Introduction to Biology, Introduction to Biology with lab, General Chemistry I, General Chemistry I with lab, English Comp I, English Comp II, Accounting I, Accounting II, Managerial Accounting, Macroeconomics, Microeconomics, Business Statistics, Anatomy & Physiology I & II, each with a lab option, Medical Terminology, Introduction to Psychology, Introduction to Business, Introduction to Criminal Justice, Introduction to Nutrition, Introduction to Sociology, Western Civilization I, Personal Finance, United States History I, Student Success, Pharmacology I, Pharmacology II, General Physics I, General Physics I with lab and two developmental courses, with another 4 new courses slated for launch during the third quarter of this year.
Course credits transfer to StraighterLine's growing network of partner colleges and universities or through the ACE Credit service.
About StraighterLine
StraighterLine has been recognized as a revolutionizing force in education by major news organizations and the U.S. Chamber of Commerce for offering students online courses that earn real college credit for just $99 a month. Fast Company named StraighterLine one of the "10 Most Innovative Companies in Education."
In order to facilitate the award of credit, StraighterLine has forged partnerships with leading accredited online colleges and universities. A student ultimately earns a degree from those institutions but realizes tremendous savings and convenience by starting with StraighterLine.
StraighterLine's courses are evaluated and recommended by the American Council on Education's College Credit Recommendation Service (ACE CREDIT). In addition to the institutions with which StraighterLine has a direct relationship, more than 300 other schools are reported to have accepted StraighterLine coursework for transfer credit.
Currently, StraighterLine offers 38 entry-level college courses online in the Sciences, Humanities, English, Math and Business.
For information, visit StraighterLine.com or call 202-507-7020 or 1-877-str8erline (1-877-787-8375).
# # #