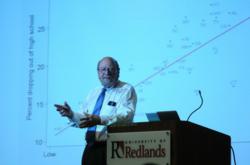 Politicians have taken their eye off the causes of problems in our education system and are looking at the outcomes instead.
REDLANDS, CA (PRWEB) July 10, 2012
The American people have been conned, Dr. David Berliner told a group of educators and education students Tuesday at the University of Redlands.
"Politicians have taken their eye off the causes of problems in our education system and are looking at the outcomes instead," said Berliner, professor of education emeritus at Arizona State University and keynote speaker at the University of Redlands Center for Educational Justice's eighth annual Summer Institute on Educational Justice.
Berliner, author of the best-selling book "The Manufactured Crisis," was one of several education experts to speak at the daylong conference, which also included a panel discussion featuring superintendents from throughout Southern California as well as workshops conducted by top educators and researchers in their fields. All presentations focused on strategies for promoting "educational justice" – the idea that all children deserve equal access to a quality education, regardless of race, ethnicity, and socio-economic status.
Dr. Jose Lalas, director of the University of Redlands Center for Educational Justice, thanked those taking part in the program for their ongoing support.
"You understand that there's something important going on here at the University of Redlands and the Center for Educational Justice," Lalas said. Redlands is one of the only universities in the nation that offers a Doctorate Degree in Leadership for Educational Justice, a program designed to develop leaders who help to close the gaps in social inequalities that lead to similar disparities in the education system.
Berliner said a cultural shift in focus away from students and on test scores and performance has created a punitive system that does little to address the staggering effects that poverty, income inequality and other social issues have on a student's ability to succeed.
"Children are no longer important," Berliner said. "The outcome is. I call it 'The Great Switcheroo.'"
Dr. Susan Shodahl, a professor of psychology at San Bernardino Valley College, has attended the conference for the past four years. It helps her stay up to date on trends and issues occurring in education, she said.
"At times, teachers can become very focused on their own work so they don't see the larger picture," she said. The conference helps her get her bearings on larger issues that may translate in some way to her work.
About the University of Redlands School of Education
The School of Education at the University of Redlands emphasizes academic excellence in an environment of student-centered teaching and learning. Students can earn credentials and degrees faster and easier with multiple program start dates, no application fees and evening classes at four convenient locations around Southern California. Relevant coursework incorporates emerging trends like spatial reasoning and geographic information systems. The School of Education has a unique focus on educational justice, from the doctoral level with its Ed.D. in Educational Justice to courses and programs throughout the school. The Center for Educational Justice sponsors symposiums and other events throughout the year to explore topics on educational justice. The University of Redlands is independent non-profit liberal arts and sciences university consistently ranked among the best universities in the nation by U.S. News & World Report.