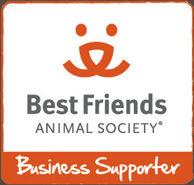 Don't Shop... Adopt!
(PRWEB) July 12, 2012
Angie Jones, Certified Professional Resume Writer and President of Haute Resume & Career Services LLC, has been actively involved in beagle rescue for nearly 10 years (e.g., fostering, transporting, doing home visits, etc.). Desiring to make a difference and give back to the community, it seemed only natural to donate a percentage of each sale to Best Friends Animal Society® in an effort to protect abused and abandoned pets.
"According to the ASPCA website, approximately 5 to 7 million companion animals enter animal shelters nationwide every year, and approximately 3 million to 4 million are euthanized (60 percent of dogs and 70 percent of cats). It isn't unusual for the long-term unemployed to lose their homes due to the loss of a job; when this happens they may be forced to move in with family or into an apartment that doesn't accept pets and thus abandoned," said Jones.
"The opportunity to become a Business Supporter of Best Friends Animal Society has given me the opportunity to combine my passions of working with job seekers while at the same time rescuing animals in need."
A percentage of every resume / resume distribution / job search coaching sale will be donated to Best Friends Animal Society®. Visit our website at http://www.ANewResume.com.