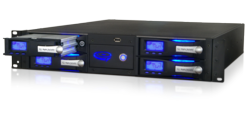 The NetSwap Plus focuses on the removability and transportability of drives as an alternative or supplement to tape or cloud backup
Reno NV (PRWEB) July 11, 2012
Highly Reliable Systems announced that they are shipping 1, 2, & 4 bay mirroring backup NAS appliances called NetSwap Plus.
"Most Network Attached Storage (NAS) appliances try to be all things to all people. The NetSwap Plus focuses on the removability and transportability of drives as an alternative or supplement to tape or cloud backup." said Tom Hoops, Chief Technology officer. Designed to "keep it simple", each removable drive bay houses a single 3.5" (up to 4TB per bay for 12TB total). The drives can be connected via iSCSI or standard network shares and can be used with most backup software, including imaging products like ShadowProtect, True Image or Symantec.
Darren McBride, the company CEO, says that each removable drive pair can be mirrored in hardware. "When mirroring is turned on, neither the server nor the backup software are aware when secondary drives are swapped. The primary volume can stay connected all the time to support incremental backups. Removing only the mirrored volume avoids software issues associated with changing drives." McBride said that once drives are synched, one of the pair are typically removed for offsite storage or as seeds for cloud backup.
The NetSwap Plus family can be configured and managed with a standard browser and can be monitored with standard RMM tools such as Labtech. The company says the NAS products include industrial grade components, custom cooling controllers, and knowledgeable U.S. based tech support.
Based on Linux, pricing on the 4 bay NetSwap Plus is $1559 MSRP. Removable drives in fully protected and transportable aluminum trays are used to populate each bay and start at $180 each. Windows versions of the products with similar features are also sold under the BNAS family name (Backup Network Attached Storage). For more information visit http://www.high-rely.com or call 775-329-5139.