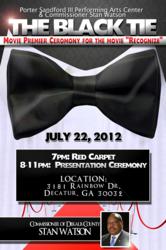 #movierecognize
Atlanta,Ga (PRWEB) July 18, 2012
Hoodstarzz Films is an Atlanta based entertainment Production Company located in the heart of Downtown Atlanta, Georgia. "I became very interested in the vision of Executive Producer Schlonda McCarthan and Film Director/Writer T. Miles after meeting with them and hearing about the film. I am honored that they have chosen our Porter Sanford III Performing Arts and Community Center for the viewing as well as doing something special for DeKalb County employees", states Commissioner Watson. "Commissioner Stan Watson was very in sync with what the movie "Recognize" is all about. He seemed very interested and in tuned with what Hoodstarzz is trying to bring to the table," exclaims McCarthan.
More than 500 special guests have been invited to this event. Among the guest list are those of the No Limit Family which include Hip Hop Mogul and founder of No Limit Records Percy "Master P" Miller, Romeo Miller, Miss Chee, Oaktree, Silk da Shocker, and many more, and NFL player Brian Ingram, Mercedes of Buckhead, and Atlanta's hottest radio stations and V 103, plus more! "This event is going to be beyond Epic! We are bringing the Hood to Hollywood," says excited Film/Director Terry T. Miles. Movie Recognize Premier has been featured on national sites such as television network The CW and palmbeachpost.com and Atlanta's metromix.com.
Be sure to follow the movie "Recognize" on Twitter @movierecognize and like the movie on Facebook at Movie Recognize. Also be sure to check out Hoodstarzz Films on Twitter @HoodstarzzTV and Facebook HoodstarzzTV, and be sure to check out their YouTube channel at Hoodstarzz Network.
For event and ticket information, please contact Hoodstarzz at 1-888-755-0787 .
Press and Media Please email info.hoodstarzz(at)gmail(dot)com