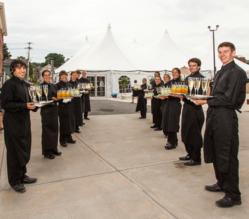 "Our goal this year was to focus on the students and their outcomes."
--Terry Nathan, president of IYRS
Newport, R.I. (PRWEB) July 11, 2012
When guests arrived at IYRS Annual Summer Gala--the annual fundraiser for this Rhode Island marine trades and technology school--they came ready for a great party. But the crowd of gala-goers also gathered at this waterfront school for a reason that runs far deeper than a good time through this maritime community: to celebrate the craftsmanship of IYRS students and graduates and ensure continued opportunity for the generation to follow. By the end of the evening, guests and sponsors together had raised $700,000 for the school's educational programs.
The event, held on July 7 at the school's waterfront campus in Newport, was sponsored by The Hilton Group at Morgan Stanley Smith Barney and the Prestige Family of Fine Cars and themed "Mastering the Craft: Celebrating 15 Years of Excellence." Event co-chairs Jamie Hilton of Newport, who also served as a title sponsor, and Pam Rorke Levy of San Francisco, worked with IYRS to orchestrate an evening that gave attendees a deeper understanding of the IYRS mission.
Scattered throughout the waterfront grounds of the gala were micro-exhibits that chronicled the school's history and student achievements. In a short film produced by Pam Rorke Levy, guests heard directly from students about the value of an IYRS education and the opportunities their training opened up to them.
"Our goal this year was to focus on the students and their outcomes," said Terry Nathan, president of IYRS. "We wanted to zero in on the core value proposition for supporting the school—and there is no better way than to hear students tell their stories, and to hear employers talk about why they hire our graduates."
The exhibits and film told the story of a school that has evolved since the first students walked through the doors in 1997. IYRS was then a fledgling school with a handful of students; it has matured into a central player in the region's workforce development with three full-time programs in Boatbuilding & Restoration, Marine Systems and Composites Technology; a fully restored historic Newport campus with a satellite campus in Bristol; and an international cadre of successful grads who have forged careers as craftsmen, skilled technicians and business owners.
An opening cocktail party held in the shadow of the school's 1831 mill building was followed by a sit-down dinner inside the gala's big-top tent. A live auction—conducted by Stephen Lash, chairman emeritus of Christie's Americas—included experiences that appeal to avid sailors and fans of classic boats.
Top-earning items in the live auction included a Mediterranean cruise onboard the 96-foot luxury performance sailboat Scorpione Dei Mari, a ten-day expedition to the Galapagos Islands, and a five-day cruise onboard the beautifully restored 85-foot Trumpy motor yacht Enticer. But the most rapid-fire bidding started when IYRS Chairman Dooie Isdale stepped up to the podium to conduct a reverse auction for Equipment, Tools & Technology for IYRS programs; this single item garnered bids totaling over $90,000.
The IYRS gala crowned an entire weekend of activity—including daysails aboard historic vessels such as the 126-foot steam yacht Cangarda, and a talk and demonstration at the restoration site of the 1885 schooner yacht Coronet. This 133-foot yacht is a rare survivor of the Gilded Age and is being restored on the school's campus by Dr. Robert McNeil and his restoration team.
IYRS offers three full-time programs from its two locations in Newport and Bristol (Rhode Island). Each campus is uniquely suited to the programs offered at its locale. The Newport waterfront campus—with its historic buildings from 1831 and 1903—is home to the Boatbuilding & Restoration program and the site of notable historic restorations, including the restoration of the 1885 Coronet. The Bristol teaching facility is based at the Franklin Street Marine Corridor, an industrial/educational complex where students mix with marine-industry companies.
In addition to Gala title sponsors The Hilton Group at Morgan Stanley Smith Barney and the Prestige Family of Fine Cars, the event also drew sponsorship from: the Argo Group, BankNewport, Boat International, Condé Nast Publications, Fidelity Investments, Hinckley Yachts, Juergen and Anke Friedrich (JAH Foundation), Lexus, Mount Gay Rum, Perini Navi, Ralph Lauren Corporation, Rybovich, Three Golden Apples, Tito's Vodka, VCFA Group and Wimco Private Villas.
For more information about IYRS and its educational programs, visit http://www.iyrs.org.