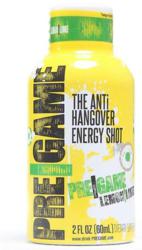 PRE|GAME is your solution to help you start your night right and wake up feeling great the next morning.
Detroit, MI (PRWEB) July 12, 2012
The Product
The problem was waking up tired, nauseous, dehydrated and with a pounding headache. The solution was to create the best cure for a hangover that is quick, effective and tastes great. With that goal in mind, the creator of PRE|GAME went to spend hundreds of hours researching the biochemistry of alcohol, how it affects the body, and why we feel the way we do after drinking too much alcohol. From that was born PRE|GAME: The Anti-Hangover Energy Shot, a concentrated blend of anti-oxidants, electrolytes, and B vitamins designed specifically to target alcohol... truly the best cure for a hangover. PRE|GAME can be purchased in a 12 pack for $34.99 on their website: drinkPREGAME.com and also at Amazon.com.
The Science
Hangover is something that faces everyone at one point or another in their lives. So much so that there are movies made about it. When it comes to hangover, there are three key issues that face the body:
1) Increased Toxicity
2) Dehydration
3) Nutrient Depletion
In order to create the best cure for a hangover, one needs to target all three of these issues.
When metabolized by the body, alcohol is turned into acetaldehyde, a highly toxic congener. When excess amounts of acetaldehyde build up, this causes an oxidative stress on the body. The strongest method to fight off acetaldehyde is with an anti-oxidant called glutathione. Glutathione is manufactured by the body; however, an amino acid called cysteine tends to be the limiting factor in its production. Thus, by supplementing with l-cysteine, one is able to increase the glutathione levels to help fight off acetaldehyde. PRE|GAME supplements not only l-cysteine, but also SAMe and choline to help support this cysteine cycle.
Secondly is dehydration. Most Americans are dehydrated as it is, and this is further exacerbated while drinking. Alcohol, in essence, acts as a diuretic, causing one to urinate more frequently and thereby leading to dehydration. PRE|GAME, the best cure for a hangover, targets this by supplementing common electrolytes such as sodium, potassium, and calcium in order to help the body maintain hydration levels and electrolyte balance.
Lastly is a general loss of essential vitamins and nutrients. Not only are these vitamins lost during frequent urination, but they are also consumed in the metabolization of alcohol. B vitamins in particular are essential in many of the liver functions in neutralizing toxins and these are over-consumed during times of drinking. PRE|GAME supplements these by providing extra servings of basic vitamins and nutrients from B to D. Thus if you're looking for the best cure for a hangover, PRE|GAME is the solution to help start the night right and wake up feeling great the next morning.
The Founder
It was a Wednesday morning, around 7am, when Jason Shoemaker, rolled himself out of bed. It was a normal day, getting ready for work, with one exception, he was still feeling the effects of the weekend before; days after the fact! While commiserating over the pains with a colleague, the two began to discuss common hangover remedies. Jason's colleague claimed he knew the best cure for a hangover; it was a basically a blend of cysteine, vitamin C, and B vitamins.
The claim interested Jason and this led to several months of pouring through research reports, studies, and biological properties. While several products on the market had existed at the time, none had seemed to work as desired nor did they contain the same supplements that the research had indicated as most effective. Nearly 8 months later, the idea for PRE|GAME had materialized, Pregame Beverages LLC was formed and formulation of PRE|GAME, The Anti-Hangover Energy Shot, had begun.
The goal with PRE|GAME was to create the best cure for a hangover, provide people with a great tasting product and a product that shows results. PRE|GAME was designed to be taken during the start of the night, provide a kick of energy (with about as much caffeine as a cup of coffee) and help the body fight off the effects of hangover the next morning. Today, PRE|GAME is that product!
PRE|GAME is a product of Motor City (Detroit, MI) and is wholly made, and developed in the US.