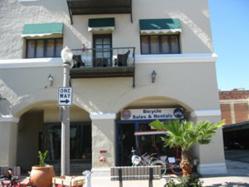 The combination of Pedego electric bikes and proximity to a scenic bike path has made this store an instant hit.
Newport Beach, CA (PRWEB) July 12, 2012
In a town that has a reputation for an appreciation of fine things, the bar was just raised for bicycles. Pedego Newport Beach is now open and running a brisk electric bike sales business already. Why the heavy crowds so fast? "It's the solid quality of the bikes, their comfortable ride and the extended riding experience they provide," says Martin Derek of Newport Beach, who co-owns the shop with Karen Pankow of Westlake Village. The combination of Pedego electric bikes and proximity to a scenic bike path has made this store an instant hit. Pedego Newport Beach is conveniently situated for locals and visitors who want to hop on Newport's beach bike path mere feet from the store entrance. Located at 105 Main Street, Suite A, directly in front of the Balboa Pier and just steps from the Balboa ferry, the store offers a nearby starting point for a variety of biking adventures.
Riders have several cool choices in this hot new shop. First, rental options are extremely flexible in that Pedego electric bikes rent by the hour, day, week or month. Then, riders have a serious selection of styles to choose from. The bikes come in models to meet most needs including cruisers, tandems, interceptors and a petite 24" size. Of course, the Pedego bikes attract purchasers too. Bicycle sales at Pedego Newport Beach have been brisk, even before the official announcement of the store's opening. People see the bikes in the store window and stop in to ask about buying one. Owners Derek and Pankow invite the public to call (949) 270-6911 to arrange a free test ride.
Enjoying extended bike trips on rental bikes has always been a challenge. With heavy headwinds facing riders who try to pedal north toward Huntington Beach, and hills challenging riders who want to go south toward Laguna, most riders give up if they're on a regular beach cruiser. "The Pedego bikes open up the entire coastline for our customers," says Derek. "On a Pedego, they have the ability to extend their experience, travel farther and see more. The bikes also provide opportunities for riders who prefer to enjoy Newport's local bike trail while keeping up with younger family members on their bikes." Guided tours will be available three times daily, taking Pedego riders through Newport and up the coast toward Huntington Beach. The rides are a fun way to discover the history of the Southern California Coast and enjoy a unique view of the scenery with family and friends. For reservations, call (949) 270-6911.
About Pedego® Newport Beach
Pedego Newport Beach is the city's premier outlet for Pedego electric bicycles where customers can choose from purchasing, renting or enjoying a guided tour on an electric bike. Located at 105 Main Street, Suite A, the shop is conveniently situated near Balboa Pier and Newport's nearby beach bike trail. Customers enjoy flexible rentals of hourly, daily, weekly or monthly duration. Call (949) 270-6911 to reserve a guided tour or arrange a free test ride.
About Pedego®
Pedego®, the world's most renowned electric bicycle, built its reputation by creating the coolest electric bicycles outfitted with the latest in electric bike technology. With their chic, stylish designs complemented by a built-in electric hub motor, Pedego® offers a cost-effective and green alternative for transportation, exercise, recreation and fun! Pedego® Electric Bicycles are perfect for anyone who wants to enjoy the fun of cycling and experiencing the outdoors without worrying about hills. Hailing from Orange County, California, Pedego Electric Bikes is one of the fastest growing electric bicycle companies in the world. For more information, please visit http://www.pedegoelectricbikes.com/