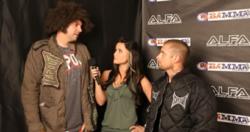 "We are fortunate that 'Punkass' and 'Scrape' could rearrange their schedules to make this happen"-Brett Roberts, BAMMA USA CEO
Santa Ana, CA (PRWEB) July 11, 2012
TapouT Approved
TapouT founders Dan 'Punkass' Caldwell and Tim 'Skyscrape' Katz will be on hand to officially approve the dedication, give remarks, and answer questions from the media. BAMMA USA CEO Brett Roberts has had a long standing personal relationship with the TapouT Crew. "These guys helped form the sport of MMA into what it is today", remarked Roberts, "we owe them a debt of gratitude for all that they have done and what they continue to do for the sport." The dedication itself has been in the works for a very long time. "We are fortunate that 'Punkass' and 'Scrape' could rearrange their schedules to make this happen", added Roberts.
About 'Mask'
Charles David Lewis, Jr. is better known to millions by his nickname 'Mask'. He excelled as a businessman, promoter and entertainer during his lifetime. 'Mask' was one of the original founders of the TapouT apparel company. In 1997, alongside his two friends 'Skyscrape' and 'Punkass', they began selling MMA apparel out of the back of their car at local shows. Within 10 years, the company reported revenues of over $22 million and within 2 years after that, it reported over $220 million in revenue. Well known in the MMA community, 'Mask' reached a much larger audience when the TapouT television series began airing in 2007. The reality show followed the TapouT Crew as they traveled the country looking for fighters to sponsor and promote their company. Charles' accidental death in 2009 sent shockwaves throughout the sport. His contribution to the popularity of MMA was so significant that the UFC posthumously inducted 'Mask' into its Hall of Fame just months after his passing. To date, Charles 'Mask' Lewis remains the only non-fighter in the UFC Hall of Fame.
BAMMA USA Cage Dedication Press Conference
Friday, July 13, 2012
Commerce Casino
6131 Telegraph Road
Commerce, CA 90040
Scheduled to start shortly after the last fight of the night
About BAMMA USA
BAMMA USA is a Mixed Martial Arts (MMA) promotional company specializing in creating live entertainment featuring both professional and amateur combatants. Currently stationed out of Southern California, BAMMA USA promotes the area's top local talent from mixed martial arts gyms such as CSW, Knuckleheadz Boxing & MMA, Elite MMA, Kings MMA, PKG, Joker's MMA/Lightning MMA, The Bodyshop, Reign Training Center, Total MMA Studios, Ace Jiu-Jitsu, Cobra Kai, Gracie Morumbi, Cesar Gracie Jiu-Jitsu Academy, The Arena, Subfighter MMA, as well as many others. BAMMA USA is Southern California's leading mixed martial arts (MMA) organization providing the area with events monthly and opportunities to professional and amateur athletes.
Past and current fighters who have worked with BAMMA USA founder Brett Roberts include: Mike 'Joker' Guymon, Vladimir 'The Janitor' Matyushenko, Joseph 'Leonidas' Henle, Georgi Karakhanyan, Gabe 'Godzilla' Ruediger, Jason Lambert, Chad 'The Savage' George, Albert Rios, 'The Real Deal' Chris Beal, Jack 'The Outlaw' May, Jared 'The Jackhammer' Papazian, and more…
While the promotion prides themselves on their motto: "Keep Moving Forward" the ultimate passion for BAMMA USA is to create an environment in which fighters are truly valued.