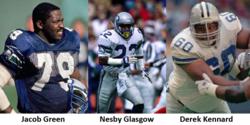 Snoring is not just a social issue.
Bellevue, WA (PRWEB) July 11, 2012
Dr. Steve Carstensen, DDS, President Elect of The American Academy of Dental Sleep Medicine is teaming up with former Seahawk players to bring Sleep Apnea awareness to Seattle in an upcoming event on July 14 at the Century Link Field located at 800 Occidental Ave. S. in Seattle, WA. The event will begin at 2 p.m. and is free to the public with pre-registration. In addition, there will be a question and answer session for the press beginning at 1 p.m.
"Untreated sleep apnea increases chances of heart disease, diabetes, and cancer. Unfortunately, the vast majority of people who are suffering from obstructive sleep apnea are undiagnosed. Snoring is not just a social issue," Carstensen said.
This event is the third event scheduled, in the nationwide campaign, "Tackling Sleep Apnea." The campaign stems from the need to create sleep apnea awareness in efforts to reduce health risks and save lives.
Physicians diagnose two types of sleep apnea: obstructive and central. The most common form is obstructive sleep apnea when the tongue falls back and blocks the airway. "In the past, people seeking solutions for obstructive sleep apnea had limited options: the most common being Continuous Positive Air Pressure (CPAP) Machine prescribed by the diagnosing physician. This is usually the best treatment, but when it is not used properly and consistently the CPAP is not helpful" said Carstensen. "Now there is another scientifically proven therapy that is far more acceptable for most patients. We can give people hope for solving their medical problems."
A discussion on the symptoms, dangers and treatment options for sleep apnea will take place at the event. Dr. Carstensen will be explaining one treatment option that some dentists are now offering, oral appliance therapy (OAT). OAT is a custom fabricated mouth piece that is similar to a retainer. The mouth piece works by repositioning the jaw and holding the tongue forward to keep the airway open. "OAT is often a great treatment option for those who can't tolerate the CPAP." Carstensen said.
In addition to the discussion that will be taking place, free in-home sleep tests will be offered to the first 25 pre-registrants/attendees of the event. An in-home sleep test is an alternative to spending the night in a sleep lab and gives an individual the opportunity to record breathing patterns in the comfort of his/her home bed. Dr. Teresa Jacobs, Board Certified Sleep Physician will be reading and diagnosing the sleep tests. Also assisting the effort to spread awareness is Dr. Steve Marinkovich, DDS, Diplomate of the American Board of Dental Sleep Medicine, practicing in Tacoma, WA.
To qualify for an in-home sleep test or to attend the event, participants must pre-register online at SleepTest.com/seattle or call either 1-855-MY-SLEEP or 425-614-5598 prior to the event. Visit Sleep Test to find take an online questionnaire and find out if you are at risk for having sleep apnea.
"This event is a great opportunity for those who are suffering from sleep apnea to find out if they may have this potentially deadly condition and help them to find a treatment option that best suits their needs. This event could save someone's life," Carstensen said.