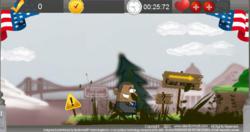 We created Obama vs. Romney to help people become more involved in our election process. We encourage people from across the U.S. and the world to participate.
Washington, D.C. (PRWEB) July 11, 2012
ElectionMall is releasing an Election Game – Obama vs. Romney – as a precursor to the upcoming November presidential election. The game introduces voters and campaigns to a new promotional platform integrated with ElectionMall's Campaign Cloud, powered by Microsoft.
Obama vs. Romney is an updated Mario Bros. type, nonpartisan game that encourages people to learn more about a Presidential election campaign in the United States. Play as either President Obama or Governor Romney as you race across the U.S., from state to state, fighting off political adversaries and being cheered on by your supporters in an effort to grow your campaign.
Playing the game, participants learn more about the candidates and the processes necessary for creating a successful campaign – raising money, recruiting volunteers and creating a strong social media following.
Visitors can view results and see the intensity level grow as people in each state play the game and move through all four levels. Players and guests on the site can see overall rankings from across the country, showing participant's name, score, state and political party. Results can also be broken down to a state-by-state level, showing what candidate is having the most success in that particular state or individually by each party.
ElectionMall is celebrating 12 years of business and they're giving back by trying to get young people involved in the election process – and by promoting eDemocracy in 2012.
"We created Obama vs. Romney to help people become more involved in our election process. We encourage people from across the U.S. and the world to participate. Our hope is to spread good will and share our commitment to eDemocracy during this election cycle," said Ravi Singh, founder and CEO of ElectionMall. "A quick tip: Jump at the right time on the bear's head to get past stage one."
ElectionMall's new gaming division aims at attracting potential voters and promoting campaign awareness through a unique and interactive engagement designed to give the player an opportunity to be part of the political process. ElectionMall previously won a Pollie for a game in Colombia featuring President Juan Manuel Santos, who fought against corruption in Colombia.
About Election Mall Technologies
Established in 1999, ElectionMall.com is a non-partisan world leader in providing on-demand, cloud-based solutions for campaigns and elections worldwide, effectively utilizing technology and business know-how to enable candidates, advocacy groups, and nonprofits to generate enhanced gains in awareness, funds, and votes. ElectionMall launched a new product, "Campaign Cloud", powered by Microsoft, last year and it has been used in campaigns across the United States and in presidential campaigns in Colombia, Brazil and Ireland. ElectionMall recently began working for the California Republican Party and the Democratic Farm-Labor Party of Minnesota. ElectionMall is headquartered in Washington, D.C., with international offices in Brussels, Bogota and Dublin. For more information, visit http://www.ElectionMall.com or follow on Twitter @CampaignGuru, join us on Facebook, and watch our latest videos on YouTube.