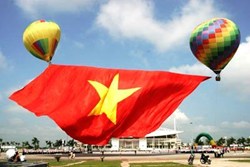 To become more and more popular among domestic and international customers, Vietnam-airline.org on Facebook is making the effort on receiving more likes and shares
(PRWEB) July 11, 2012
Vietnam-airline.org, a premier online social-network for travelers all over the world, has updated to Facebook. In spite of joining Facebook community for a short time, the website has got the attention from a large number of Facebook users.
Due to the popularity of Facebook at present, the website expects to become a useful and informative platform for people who care about traveling. Facebook's mission is to give people the power to share and make the world more open and connected. Facebook users communicate and share information through the social graph, the network of connections and relationships between people. Therefore, to become more and more popular among domestic and international customers, Vietnam-airline.org is making the effort on receiving more likes and shares from users.
In fact, apart from proving customers with reliable, fast, and effective services, the website also constantly updates Vietnam Airlines news on its homepage. With the aim of being the professional site that connects tourists from different places in the globe to Vietnam, Vietnam-airline.org is also available to help clients book trip right on Facebook, even get big offers during this summer. Vietnam-airline.org on Facebook, indeed, has launched many promotion programs on the website to attract more people visiting the page. For example, they have chances to get free information on travel documents, fare types, route maps, and so on. Furthermore, cheap fares are offered to customers when they book in advance. All of information relating to discount is constantly posted on the homepage of those who liked it. Then, customers will find it easy to get one anytime they get access to Facebook.
Millions of Facebook users pay a visit to the site each day, providing unparalleled distribution potential for applications and the opportunity to build an online community that is popular and beneficial.
Being a top online booking center in Vietnam, Vietnam-airline.org always ensures to bring a guarantee for the quality of customer service as well as the preciseness of information.