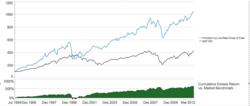 If you buy an ounce of gold today and you hold it at hundred years, you can go to it every day and you could coo to it and fondle it and a hundred years from now, you'll have one ounce of gold and it won't have done anything for you in between. W. Buffet
New York (PRWEB) July 13, 2012
Princeton Ivy Capital Advisors' CEO Indira Amladi MS MBA CFA cautions the industry regarding Low Beta portfolios that are structured with High Beta stocks complemented with Gold as a hedge, noting that High Beta stocks and Gold are both speculative ways of lowering beta. Although Gold is being used as a hedge for inflation and beta, its macroeconomic speculative nature increases the risk of portfolios. This is also consistent with Warren Buffet's published view on gold (Source: Forbes May 9th 2012).
Princeton Ivy Capital Advisors
Princeton Ivy Capital Advisors (PICA) employs the state-of- the-art proprietary, Low Beta Legacy (LBL) Strategy which consists of Low Beta companies that score high on Long Term Corporate Governance. PICA recommends this investment strategy only for long term investment horizons.
This strategy has a 17 year audited track record with an annualized return of 12.93%, 11.55% Alpha & 0.375 Beta, and was developed in 1994 by Indira Amladi MS MBA CFA. The strategy screens for high quality companies using the following "10 pillars of strength" model.
1. Strong "repeat" purchasing behavior by consumers/customers: The Ehrenberg "score".
2. Market Leadership, Strong Business Model and Financial metrics
3. Macro expectations / trends – must favor purchase/valuation
4. Long Term Corporate Governance: 10-15 year Company's management history
5. Historical valuation ranges for the company & sector
6. Conservative management (Capital conversion to Earnings: growth at what cost) & GAAP
7. Current Price relative to historical valuation and forward valuation.
8. Debt levels conservative
9. Company's Pension plan funded status impact as an additional precaution.
10. Qualitative evaluation – Insights compiled provide points on SFF (Shareholder Friendliness Factors) from studies of Annual reports, news about the company, and the CEO, company events, restructurings etc
Competitive Fees: PICA is a Fee only Advisor with 0.5% Fee and NO PERFORMANCE FEE.
Investors interested in this initiative may visit http://www.princetonivy.net/ or call 646 843 9725 for more information.

About Princeton Ivy Capital Advisors: The Princeton Ivy Management team has over 90 years of combined experience across various industries (FMCG, Pharmaceuticals, Financial Services, Real Estate, Manufacturing, Sustainability) and geographies (USA, Canada, India, Abu Dhabi, Kuwait, Qatar). Ms. Indira Amladi, MS, MCA, CFA, Founder and Managing member, has previously worked at Fortune 100 companies such as Procter and Gamble, Johnson & Johnson, Kraft Foods / Altria, and held consulting positions at companies such as Unilever, Deutsche Bank, and Buckeye Technologies. The firm is 100% employee owned and no investment professional has left the firm since inception.
Contact Information:
+1-646-843-9725
Indira Amladi, CEO
Contact the CFA Institute directly via "cfainstitute.org" for a copy of the research published in Financial Analysts Journal (Volume 67 • Number 1, 2011 copyright CFA Institute).
Disclaimer: The statements contained are based on management's current views and assumptions and involve known and unknown risks and uncertainties that could cause actual results, performance or events to differ materially from those expressed or implied in such statements.
Actual results, performance or events may differ materially from those in such statements because of, but not limited to (i) general economic conditions, (ii) performance of financial markets, including emerging markets, and including market volatility, liquidity and credit events (iii) the extent of credit defaults, (iv) interest rate levels, (v) currency exchange rates (vi) changing levels of competition, (vii) changes in laws and regulations, (viii) changes in the policies of central banks and/or foreign governments, (ix) the impact of acquisitions, including related integration issues, (x) reorganization measures, and (xi) general competitive factors, in each case on a local, regional, national and/or global basis.