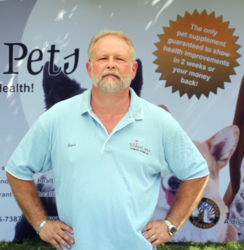 Woow, this is really the best decision / investment I ever made.

It changed my dog life, thank you.."

Carla F.
Edgewater MD,
(PRWEB) July 13, 2012
Vibrant Pets forms a Professional Services Division to work directly with trainers, handlers, law enforcement and military units, as well as shelters and rescue groups.
The Director of this new division is Steve Watson who is a native of North Carolina that has a lifetime (50+ years) of involvement with companion animals.
Steve is a dog breeder and handler of show dogs and has many AKC Championship Dogs.
He is currently serving as President of the Moore County Kennel Club of NC Inc. in Pinehurst NC, and as Vice President of the Carolina Terrier Association Steve is also involved in organizing and running various AKC events encompassing conformation, companion, and performance.
Vibrant Pets is offering a special opportunity for Pet Professionals and pet lovers until August 30, 2012.
If anyone places an order for a large size Vibrant Pets product for a rescue group, Vibrant Pets will provide free shipping and indicate who is providing the product.
On orders for rescue groups Vibrant Pets has set up promo code "rescue" to be used when ordering.
Lee Phillips, President of Vibrant Pets stated "When you order Vibrant Pets, by any measure you are ordering the most powerful and cost effective pet supplement on the market."
The power of Vibrant Pets can be seen in the almost unending testimonials on our website and we do all this for less then 50 cents per day for a big dog.
For more information about Vibrant Pets and ordering products visit their website or call or email Steve at: steve(at)vibrantpets(dot)com or by phone at 919-770-9265.