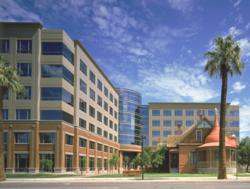 "The addition of these two office buildings brings Lincoln's property management portfolio up to 5.5 million square feet in the Phoenix area – making LPC one of the largest property managers in Arizona."
Phoenix, Arizona (PRWEB) July 11, 2012
The Desert West Region office of Lincoln Property Company, a full-service real estate firm providing development, investment, property management, receivership, leasing and construction management announced that it will provide property management services for two Capitol Mall state properties: The Arizona Department of Environmental Quality (ADEQ) and Arizona Department of Administration (ADOA).
The ADEQ headquarters is a six story, 292,684 square foot building, located at 1110 West Washington Street in Phoenix, Arizona. The ADOA headquarters is a four story, 177,038 square foot building located at 100 N. 15th Avenue in Phoenix, Arizona.
"The addition of these two office buildings brings Lincoln's property management portfolio up to 5.5 million square feet in the Phoenix area – making LPC one of the largest property managers in Arizona," said David Krumwiede, Executive Vice President, Lincoln Property Company West Region.
"Although this is a new assignment for LPC, we have a unique history with the properties. As former Opus employees, David and I were involved in the development of both facilities, and I oversaw the management team that is currently in place from its inception to late 2011," said Tammy Sidles, Director of Management Services for Lincoln Property Company.
ADEQ is a LEED Silver certified building and ADOA was built to LEED specifications. Both buildings won the BOMA Office Building of the Year TOBY competition in 2007 on the local, regional and advanced to the International competition.
LINCOLN PROPERTY COMPANY
Lincoln Property Company ("Lincoln") is an international full service real estate firm offering real estate development, design / construction management and property / asset management services. Founded in 1965, Lincoln currently has approximately 4,400 employees and maintains a presence in more than 200 cities in the United States and 10 countries throughout Europe.
Lincoln's Desert West Region, which includes Arizona, Nevada, Utah and New Mexico, is based in Phoenix, Arizona and has been operating since 2001. Lincoln has developed 2.7 million square feet, acquired 3.7 million square feet and manages 5.5 million square feet of commercial space.
Lincoln's notable developments and investments include the LEED Platinum Certified Arizona Game and Fish Department Headquarters, Paradise Village Office Park, Broadway 101 Commerce Park and Camelback Square. Lincoln was also recently ranked 4th in the Arizona Republic Who's Who in Business. The Phoenix Business Journal Book of Lists ranks LPC in the top 10 Commercial Real Estate Property Management firms. For more information, visit http://www.lpcphx.com.