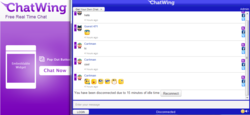 New York, NY (PRWEB) July 11, 2012
Webnode users can now utilize the communication leverage offered by the Chatwing chat box. The Chatwing team has advanced in the Webnode community because the site is getting popular across the Internet. Many people are now using Webnode to create their blogs and websites. Chatwing can help these websites attain visibility by providing a stream of communication between the bloggers and web surfers. Chatwing is also created with social media integration to help people expand their social networks.
The Chatwing shoutbox has been built for bloggers and web surfers all around the world. It serves as an avenue of communication that can be used by everyone. In the new version of Chatwing, users are now allowed to sign in with their Facebook or Twitter accounts. This overhaul made the shout box more popular and useful than ever. The new version can also accommodate up to 600 visitors in real time.
Months ago, the Chatwing team has struggled when it comes to the soft marketing process of their chatbox. To cope with this, the developers have continued introducing useful upgrades and developments. These enhancements eliminated many technical glitches and have allowed users to enjoy uninterrupted streams of global chat. Adding to that, the installation process of the application has become easier, allowing bloggers to save more time and enjoy unlimited blog visibility right away. The Chatwing team has also branched out to forums and other communities related to dating and relationships.
Unlike other chatrooms, the Chatwing tool goes in-depth with customer satisfaction exploration. This has been made possible with the dev team's continuous research in different online communities. The team has also foreseen that their expansion to the Webnode community will bring remarkable online success to many people. To spread more information, the team is maintaining an official Chatwing blog and Facebook page.
About Chatwing.com
Chatwing.com has developed live chat software for websites and blogs. It caters to different online communities due to its high rate of connectivity. Everyone can create a customizable live chat box feature in 1 minute or less. Users have the ability to customize the size, color, and fonts of the chat product. The ability to chat via social media accounts such as Facebook and Twitter enable Chatwing to offer a personal and unique real-time experience to all sites. Chatwing is 100% free and very easy to use.