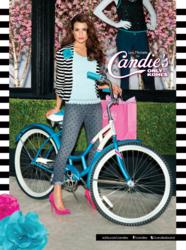 New York, NY (PRWEB) July 11, 2012
Award winning actress and "GLEE" star Lea Michele will appear in her second season as Fall 2012's Candie's Girl in a brand new back-to-school campaign titled, "You're The One."
Best known for her role as Rachel Berry on the Golden Globe Award winning television series, "GLEE", Lea Michele has also received the People's Choice Award for Favorite TV Comedy Actress and the Screen Actors Guild Award for Best Actress in a Series, Comedy or Musical and has also received Golden Globe, Emmy, and Teen Choice Award nominations.
Lea Michele commented, "The idea behind the commercial is very cute--I'm walking down the street, pass by a Kohl's store and this amazing pair of Candie's shoes in the window catch my eye. Well, there just so happens to be a stock boy working in the window, and while I'm staring at the shoes, falling in love with them, he thinks I'm looking and falling in love with him, but girls love their shoes so…."
The marketing campaign is set to the iconic song, Love is Strange, by American R & B duo, Mickey & Sylvia and was shot at Paramount Studios in Los Angeles, CA by fashion photographer Yu Tsai. The television commercial was directed by Chris Applebaum and will debut in mid-July on networks nationwide, and the print ads will debut in August issues of fashion and lifestyle magazines such as Seventeen and Teen Vogue, as well as online, and outdoors.
Past Candie's spokespeople include Vanessa Hudgens, Britney Spears, Fergie, Hilary Duff, Jenny McCarthy and the Dixie Chicks.
Lea Michele soundbites, flirty sizzle video, behind-the-scenes making of the commercial spot and print campaign, ad images and more are available via high-res broadcast and low-res download at: http://www.magicbulletmedia.com/MNR/CandiesFall2012