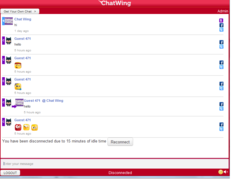 Chicago, IL (PRWEB) July 11, 2012
Online sellers in the Webnode community have increased in number for the past few months. This fact is based on the numbers of users signing up for Webnode, and using their websites for the purpose of online selling. The Chatwing team, resourceful as ever, has used this fact as a template for their new global chat box. This new chat app is known for its global connectivity and social media advantage. It has also been used in different blogging communities such as Wordpress and Posterous.
Online sellers can take advantage of the Chatwing shoutbox because it offers social media integration. Through this option, Chatwing users and visitors can log in with their Facebook or Twitter accounts. If the blogger wants to expand his social network, he can always send invitations to his blog visitors. In this way alone, Chatwing provides a stream of communication that is crucial to any purpose.
Before expanding to blogging communities, the Chatwing team has undergone several platform tweaks. These developments were created in rapid succession in order to deal with the influx of visitors and registered users. During the first wave of expansion, the Chatwing shout box has already gathered thousands of sign-ups, yet the team is expecting for more in the future. In the latest version, the Chatwing tool can accommodate up to 600 users. The dev team is planning to upgrade it to 1000 to help more users gain proper communication leverage.
The Chatwing team aims to go beyond the reach of other chatrooms by working on the chat platform with 100% diligence and determination. To keep the customer satisfaction rate intact, the developers are willing to work round the clock in upgrading the chat application. Additionally, the Chatwing team will always empower the premise of website chat so that people will be more aware of its importance.
About Chatwing.com
Chatwing.com has developed live chat software for websites and blogs. It caters to different online communities due to its high rate of connectivity. Everyone can create a customizable live chat box feature in 1 minute or less. Users have the ability to customize the size, color, and fonts of the chat product. The ability to chat via social media accounts such as Facebook and Twitter enable Chatwing to offer a personal and unique real-time experience to all sites. Chatwing is 100% free and very easy to use.