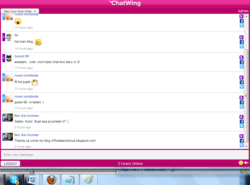 Miami, FL (PRWEB) July 12, 2012
Blogspot still remains as one of the hottest free hosting blog sites of today, despite the competition presented by Wordpress, Posterous, and Livejournal. This is based on global statistics and the numbers of users that are still signing up in Blogspot. The Chatwing team has carefully used this fact to aid their expansion in this blogging community. Recently, the team has launched a potential shoutbox in Blogspot. This chat tool is known for its versatility and high rate of global connection.
Blogspot users can utilize the Chatwing chat box in regards to online visibility. According to the research done by the Chatwing team, bloggers who have used the Chatwing app have experienced high spikes of visibility within an allotted time. This time usually spans from few days to weeks, and the percentage varies depending on the content of the blog. The Chatwing tool is also versatile, as users can discuss numerous topics such as tech, blogging, trends, current events, and even the latest news about Hollywood.
Back then, the Chatwing team has expanded in other blogging communities and almost stopped there. However, the developers have noticed that many bloggers need imminent visibility if they want to outlast the competition in the blogosphere. To deal with this, the dev team has introduced various shout box upgrades, raising the satisfaction factor of thousands of Chatwing users. The expansions have continued until the team has reached the Blogspot community.
The Chatwing dev team will work tirelessly in order to achieve 100% satisfaction rate from thousands of users worldwide. This scenario is possible, provided the developers of Chatwing will maintain their diligence and creativity in promoting the web chat tool. Aside from that, empowerment of website chat can help many bloggers and web surfers understand the importance of real-time communication.
About Chatwing.com
Chatwing.com has developed live chat software for websites and blogs. It caters to different online communities due to its high rate of connectivity. Everyone can create a customizable live chat box feature in 1 minute or less. Users have the ability to customize the size, color, and fonts of the chat product. The ability to chat live via social media accounts such as Facebook and Twitter enable Chatwing to offer a personal and unique real-time experience to all sites. Chatwing is 100% free and very easy to use.