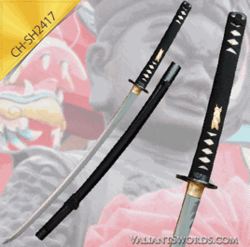 The Raptor Katana enables the aspiring swordsman to practice cutting techniques even without cutting mats.
(PRWEB) July 18, 2012
Valiant Swords seeks to combine the skill of a Samurai with the ferocity of a beast in its line of Raptor Katanas. Appealing to the Samurai sword enthusiast, this line is designed by cutting expert James Williams who founded Bugei Trading Company, a renowned source of quality swords and armor. The Raptor Samurai Katana enables the aspiring swordsman to practice cutting techniques even without cutting mats. The blade is heat-treated to give the sword a higher resilience and greater tolerance for misdirected cuts than a regular differentially-tempered blade. The edge is also shaped to enable the cutting of both soft and semi-hard materials, thus expanding the range of practicing possibilities.
All katanas in this series are forged from 5160 high-carbon steel. The blade is structured to avoid extra thickness, making its weight and handling characteristics closer to that of the original Japanese weapons. Special attention is also given to the unique style of each blade, and sword handles all feature the signature Raptor emblem.
Swords in the Raptor Series include:
The Raptor Unokubi-Zukuri: Named after the "Comorant's Neck," this sword is patterned after the Naginata, a long-handled weapon popular between the 12th and 14th centuries. The style of the blade stands apart with its strongly-relieved ridge line and diamond-shaped curved tip. The Unokubi-Zukuri is known for its great balance and strong cutting ability. Valiant Swords is proud to offer this sword for cutting practitioners.
The Raptor Shobu-Zukuri: Meaning "Iris Leaf", this style was popular during the Nanbokucho and Muromachi periods in Japan. This design lacked a "yokote," the line that separates the tip from the rest of the blade -- a feature that typically distinguishes the katana. It promises significant power and cutting ability.
The Raptor Shinogi-Zukuri: This has become the most common katana blade design, providing speed and cutting power. Featuring a distinct yokote, these blades were first made after the Heian period around 987 A.D.
The Raptor Katana Moroha Zukuri: Similar in style to the Tachi blade forged in 800 A.D., this sword has unusual features like a black edge on the top half of the blade and fullers that begin where the edge finishes and continue to the hilt.
Sword-lovers can seek the samurai within at http://www.valiantswords.com.