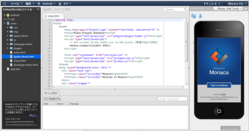 A dramatic improvement in UI/UX of hybrid application with HTML5
(PRWEB) July 12, 2012
The recent rapid growth of smartphones and tablets has also increased demand for the applications that run on them. In response to this the 'hybrid' application development method using HTML5 and JavaScript is often used to develop apps for iOS and Android platforms, including by leading companies such as LinkedIn and Facebook.
On the other hand developing in HTML5 presents numerous problems compared with developing in the native language of each platform, for example Objective-C or Java.
Asial's latest release of Monaca introduces native component functionality. This allows application developers to create the UI with native language components even while developing hybrid applications.
In addition, by using Monaca it becomes possible for developers to create iOS & Android apps using 100% cross-compatible code, dramatically reducing development and maintenance costs.
Monaca currently has around 3,500 users, and apps created on it include "Eight", the most popular business card management system in Japan produced by the SanSan Corporation.
SanSan director Kenji Shiomi had this to say about the native component functionality in Monaca
"We were able to develop in HTML5 and still create a fully-featured UI. We are extremely happy with the results."
From now on, Asial will be working towards bringing new components and functionality to Monaca such as billing and advertising tools, with the goal of allowing anyone to build apps more easily.
Introducing Monaca native-component functionality
1) Native UI components
Ability to develop applications with native UI toolbar, tab-bar etc
2) Transition functionality
Use native application-specific transition effects (screen-effects)
3) Android hardware key compatibility
Develop apps compatible with the Android [Back] and [Menu] buttons
About Monaca
Monaca is a cloud-based development environment featuring native iPhone, iPad and Android compatibility from Asial Corp. It allows developers to create native apps for multiple platforms simultaneously. By using the Monaca IDE developers can create, debug and distribute apps in a browser-based environment. This gives considerable savings in time and development costs compared with traditional development methods.
Monaca Website: http://monaca.mobi/
About Asial Corporation.
Asial Corp. services include server-side and smartphone software development, service management and user interface design
Website:http://www.asial.co.jp/
Address:10F Ochanomizu Wing building, 2-15-13 Bunkyo-ku, Tokyo 113-0033, Japan
CEO:Masahiro Tanaka