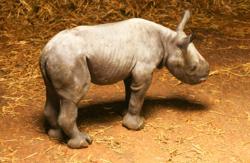 This is what The Aspinall Foundation is all about – successful breeding programmes with endangered animals so that we can return them to the wild wherever possible.'
(PRWEB UK) 11 July 2012
Keepers are delighted to welcome a very special new addition to the herd of critically endangered black rhino housed at Port Lympne Wild Animal Park in Kent.
The newborn female rhino is a beacon of hope as the black rhino sub species teeters on the brink of extinction.
Paul Beer, Head Rhino Keeper said: 'This is mum, Nyasa's, first birth – both mum and calf are doing really well and we're all delighted. The little calf is strong and suckling well, we will keep her indoors for the first week or so to monitor her progress, but she should be able to explore her paddocks soon. It will be a while until she and mum can be seen by visitors as a peaceful environment is very important at this early stage of development.'
Port Lympne is home to the largest herd of critically endangered black rhino outside Africa and are experts in breeding the Eastern black rhino with 33 births to date. The wild animal park works in conjunction with The Aspinall Foundation, the conservation charity that believes in returning animals born at the parks to protected areas in the wild in order to boost indigenous populations. The Foundation recently hit the headlines when they translocated three critically endangered black rhino to the wilds of Africa.
Adrian Harland, Animal Director said: 'Our impressive breeding record with these animals is a testament to the hard work and dedication of our keeping staff. This is what The Aspinall Foundation is all about – successful breeding programmes with endangered animals so that we can return them to the wild wherever possible.'
The wild animal park near Ashford further grabbed the attention of the media when HRH Prince William paid a private visit to three rhinos about to be sent back to a heavily protected reserve in Tanzania.
In an exclusive interview with the BBC, the prince lashed out at poachers and those responsible for fuelling the desire for rhino horn describing them as, 'ignorant, selfish and wrong.'
For further information regarding The Aspinall Foundation and Port Lympne Wild Animal Park visit http://www.aspinallfoundation.org/portlympne