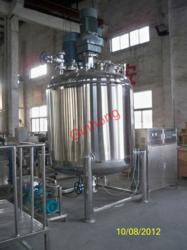 Jinhu, Jiangsu Province (PRWEB) July 16, 2012
The Chinese based company, Ginhong, is proud to carry one of the premier vacuum processing systems that is used to mix cosmetics, pharmaceuticals and food products effectively. The food mixer will be displayed so that customers from around the world can witness how it works.
The food mixer can manufacture low- viscosity liquids which work well in many different types of products. It can be used to create the right consistency in various types of food products. Ginhong manufactures these machines so that it is a self contained unit which consists of the mixer tank, heating and cooling system, control system for temperature consistency and an electrical control panel. It is basically made up of an anchor agitator which is mounted on the top. It can be used as a food mixer in the making of milk, juices and beverages.
Food equipment manufactured by Ginhong is especially designed so that they can perform all the steps of mixing the food products from the single unit. The food mixers can emulsify, dissolve, disperse and homogenize products all in the single unit. The mixer is on display for those who would like to see the process demonstrated.
Ginhong is one of the leading companies which provide food equipment such as the vacuum multi-shaft mixer to companies which need an emulsifier. Their full line of products can be viewed on their website http://www.ginhong.com/. Contact information is available for those customers who would like to see firsthand what their food mixers are capable of and how they can benefit their company.
About Ginhong
Ginhong is a Chinese company that was founded and located in Jinhu, Jiangsu Province. The company began to grow quickly and they soon had outgrown the small facility. They moved to a facility which could house their expanding operations. The company has a full range of emulsifiers and mixers that they design, engineer and manufacture in their facilities. Included in their product line are multi-shaft mixers, emulsifying mixers, mixer machines and high shear blenders. These mixers are used to make various types of products of a cream-like consistency. They are used in the making of pharmaceutical, chemical, cosmetic and food products. They service customers from around the world and are fully capable of meeting the needs of both domestic and international customers. Ginhong has received government certifications and meets international quality standards.