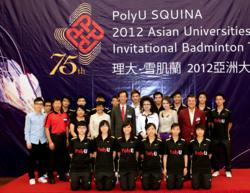 (PRWEB) July 11, 2012
Sixteen universities from Asian countries and regions have accepted the invitation of The Hong Kong Polytechnic University (PolyU) to take part in "PolyU Squina 2012 Asian Universities Invitational Badminton Tournament" which will be held on the university campus from 22 to 26 July. This large-scale badminton tournament is one of the celebratory activities of the University's 75th Anniversary.
A press conference announcing the details of the Tournament was held today (29 June) and joined by Mrs Angel S.P. Chan Lau, Chairman and CEO of Squina International Group Limited; Professor Timothy W. Tong, PolyU President; and Dr Patrick Chan, Section Head (Physical Education), Student Affairs Office.
Speaking at the press conference, Professor Tong expressed his heartfelt gratitude to all parties involved in staging this sporting event. He said, "The Tournament not only provides an excellent arena for student-athletes to demonstrate their sporting prowess and vitality, but also helps to strengthen collaboration among Asian universities and to promote sportsmanship and cultural exchange."
Among the sixteen participating teams, eight are from the Chinese mainland, six from Taiwan, Thailand, Vietnam, Malaysia, Indonesia and Macau, and two other teams are City University of Hong Kong and The Hong Kong Polytechnic University. (Full list of teams).
The teams will be divided into four groups, and single round robin system will be adopted in the preliminary matches. The first two teams in each group, with the highest scores, will enter the final round and single knockout system will be used to decide the champions and winners of the scholarships.
The University is grateful to the following sponsors and supporting organizations for their ardent support to the Badminton Tournament:
Title Sponsor
Squina International Group Limited
Sponsors
Bonny Sports
Bossini Enterprises Limited
A.S. Watson Group
Hong Kong Badminton Association Ltd.
Press contact: Dr Patrick Chan
Section Head (Physical Education), Student Affairs Office
Tel: (852) 2766 6816