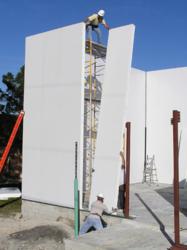 Very few homes that I've tested in my life have been as tight as this one
Fort Myers, Florida (PRWEB) July 16, 2012
Element, a South Florida company, recently announced the results of a blower door test on one of their homes. This code prescribed test checks the building for air leakage, critical to attaining a healthy and efficient indoor air quality. The SSIP provides designers, builders and owners with storm resistant, energy efficient buildings. The controllable indoor environment is healthier, more comfortable and does not promote mold or rot, keeping maintenance costs low.
The test was performed by FL Green Team. After inputting the test data, Noah Blanco, a HERS certified energy rater with the company reported the results; "The estimated air changes per hour are .03 (ACHnat) or 1.12 ACH50. That means your approximate leak size is about half a square foot ...so A Plus". Standard air duct testing was also performed, "The average Pascal readings on the vents was a .2 which is extremely good, that's just wonderful". To view a video of the test visit:
http://www.youtube.com/watch?v=CxRmOTC_d1g&feature=youtu.be
Scott Bartels, COO of Element commented on the report: "This test result of 1.12 ACH50 shows that our SSIP building envelopes perform three times better than is required by the newly adopted IECC building code. The educated building customer of today is aware of sustainability and wants products with a good cost to benefit ratio. The upcoming building code criteria for energy and strength will continue to increase. Consequently, conventional materials and techniques have to be supplemented with lots of bandages to meet just minimum standards".
Element's system of SSIP and structural steel reinforcement has not only performed well on tests like this blower door it has a track record of strength and safety against the worst our tropical region has to throw at it. In 2004 Hurricane Charley squared off with five of our structures that were directly in its path. No damage occurred to any of these buildings. FEMA's follow up article on best building practices featured one of those homes. That same year Hurricane Ivan hit one of our large custom homes in Grand Cayman. This was an extreme Cat 5 storm on that island and the house survived without damage.
Element provides design, fabrication and supply services for homes, offices, stores, warehouses, garages, schools and other types of buildings. Sustainability is built in.
Visit http://www.elementbuildings.us for more information