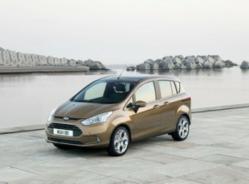 (PRWEB UK) 12 July 2012
A new generation of Ford models is growing its green credentials.
People will see 15 new models in Europe in 2012 that are best-in-class for fuel efficiency using the latest engine technologies to minimise fuel consumption, reduce drag and running costs.
By the end of 2012, Ford of Europe also will have one of the largest portfolios of cars in the industry with CO2 emissions of under 100g/km, including six Fiesta models (three diesel, three petrol) and two Focus diesel models.
It also plans to introduce its first ever all-electric, zero-emission passenger vehicle this year - the Focus Electric.
"The introduction of our new EcoBoost petrol engines has really helped us to go further in our drive to reduce our total fleet CO2 emissions, while still delivering great performance and driving dynamics," said Sherif Marakby, Ford of Europe, director of Powertrain Engineering. "Add top-notch diesel engines and our range of low CO2 ECOnetic Technologies that are spreading to more and more vehicles all the time, and we are now delivering a comprehensive range of efficiency leaders to European customers."
Ford's 1.0-litre EcoBoost petrol engine, recently named winner of the "International Engine of the Year" award, is the driving force behind nine of the 15 new models with class-leading fuel efficiency.
The already available best-in-class 100PS and 125PS versions of Focus 1.0-litre EcoBoost, with CO2 of 109g/km and 114g/km respectively, will soon be joined two models of all-new B-MAX and four models of C-MAX and Grand C-MAX.
Ford's new ST performance cars will also deliver leading fuel efficiency in its class with EcoBoost engines, which leverage turbocharging and direct injection. Focus ST, on sale later this summer, will produce 250PS from a 2.0-litre EcoBoost engine, but emit just 169g/km CO2.
Ford TDCi diesel engines will also help Ford's commercial vehicles, the Transit and the Ranger, offer unsurpassed levels of efficiency and emissions, including the 1-tonne and passenger bus versions of new Transit out-performing their rivals, emitting just 174g/km and 168g/km of CO2 respectively.
A 1.6-litre TDCi engine has already helped the Focus ECOnetic Technology to be Ford's most fuel-efficient ever Focus, with best-in-class figures of 88g/km of CO2 and 3.4l/100km (83.1mpg). That utilizes the full range of Ford ECOnetic Technologies, including Auto-Start-Stop, Smart Regenerative Charging, Active Grille Shutter, Eco Mode, shift indicator light, and optimised gear ratios. Lower suspension, wheel deflectors and low-rolling resistance tyres reduce driving resistances.
It also features a special catalytic converter called a lean NOx trap to help reduce CO2 emissions by facilitating a leaner combustion process using a higher proportion of air to fuel. Special undershields for optimal aerodynamics and a water-cooled charge air cooler add further efficiencies.
Keep up to date with the latest changes using the Company Car Tax Calculator and see reviews of models in this sector with these business car comparisons.
businesscarmanager.co.uk