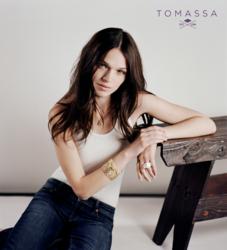 At Tomassa, we have a real passion for beautiful objects, stylish presentation and impeccable service
London, England (PRWEB UK) 13 July 2012
TOMASSA.COM showcases a selection of own branded, fine jewellery collections in an engaging and interactive format. Tomassa co-founder, Caroline Creba who heads the creative says,' At Tomassa, we have a real passion for beautiful objects, stylish presentation and impeccable service. We want to combine this passion with a pioneering attitude to e-commerce within the jewellery industry. This includes the use of strong editorial imagery, active engagement with social media and exciting future plans'.
The Tomassa jewellery collections range from smaller easy-to-wear designs, to expensive, one off pieces. With prices ranging from £60 to £11,000 there is a piece of jewellery in both price and style for everyone.
TOMASSA.COM is designed to give the consumer the flexibility to shop how they wish, whether they know exactly what they are looking for or would like to be inspired. The easy navigation system enables the consumer to shop by metal, colour, style or choice of apparel.
Since launching into the online jewellery space in Spring 2012, TOMASSA.COM has attracted attention from key influencers in the fashion world, namely Sarah Harris, Fashion Features Editor of Vogue UK and Eilidh MacAskill, Editor of Instyle Magazine. Both Sarah and Eilidh have hand picked their top Tomassa pieces from the collections to guest feature on both the Tomassa website and the Tomassa Magazine. The Tomassa Magazine is a supplementary addition to TOMASSA.COM, designed to share new collections and discuss original and engaging topics that inspire in art, travel, fashion and style.
It is the Tomassa mission to bring authentic, iconic and compelling pieces exclusively to the consumer from their luxury online store.
For further information on the brand, please contact Tomassa.
contact(at)tomassa(dot)com
http://www.tomassa.com