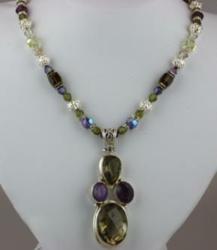 Although more expensive, I choose to work with precious metals. When your passion for quality and design are the driving force, you want the piece to last a lifetime.
Washington Township, NJ (PRWEB) July 17, 2012
The staff at What a Gem create unique, one of a kind jewelry. The pieces are created using the finest precious and semiprecious gems, sterling silver, Swarovski crystals, pearls, artisan crafted lamp work beads, and some copper. Various techniques are applied in the creation of these pieces.
At What a Gem, new inspirations, challenging designs and techniques are always a delight. The challenge of making flowers out of sterling silver beads or gemstones is quite rewarding when the end product looks just like the sketch. Art Clay is another technique that is truly fascinating. Clay that when fired turns into .999 fine silver. There is quite a bit of work involved in this process, but the end result is beautiful. Very unique, one of kind pieces can be produced using this process.
Hours are spent selecting stones. It is truly amazing what comes from the earth. There is so much depth, vibrant color, lustier and sparkle in precious and semiprecious gems.
On the site, there is a shell that was mined in Africa last year that is over 500 years old. Over the many years that is was buried in the earth, it formed druzy on top which causes the shell to sparkle. It is a remarkable piece. There are also very lovely light pink conch shells that have been carved and made into beads…beautiful. Black onyx has been carved into knots, and impeccably crafted artisan lamp work beads. Just to name a few....
About What A Gem, LLC:
What A Gem provides anklets, rings, bracelets, necklaces, earrings and jewelry for children. All pieces are one of a kind. Some of the pieces can be resized depending on the method used to create them. Happy shopping http://www.ohwhatagem.com Telephone Number 609-685-8510
What a Gem has served Southern New Jersey area since 2007. Now, it may serve women with a high fashion sense in all states.