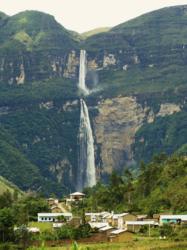 Our naturalists must have had binoculars for eyes! To see pygmy marmosets three times was unbelievable.
HELENA, Ala. (PRWEB) July 11, 2012
International Expeditions, a pioneer in engaging and authentic Amazon travel, is offering travelers three distinct small-group adventures through Peru focusing on the country's less-visited natural areas. While 70% of all travelers to Peru visit Machu Picchu, International Expeditions' three Peru tour options are ideal for adventurers seeking in-depth exploration, penetrating insight into local cultures and fewer crowds in this "must see" country.
Northern Peru
Travelers on IE's new Northern Peru tour journey from the Pacific coast through Andean cloud forests and lowland forests while enjoying some of the world's best birding. In the hands of our seasoned naturalists, guests search for the sought-after marvelous spatuletail during hikes near the Gocta Waterfall and Huambo Reserve and may spot the endangered white-winged guan in the private Chaparrí Nature Reserve. During the journey, guests also encounter one of Latin America's last archaeological frontiers — the ruins of the Moche, Chimú, Lambayeque and Chachapoyan people. Prices for the Northern Peru tours start at $4,998.
Southern Peru & Bolivia
Guests on IE's new Southern Peru tour travel through the ancient Inca Empire while exploring Lake Titicaca's Peruvian and Bolivian Islands, watching Andean condors soaring overhead in the Colca Canyon, and delving deep into the Amazon Basin at Tambopata Reserve to spot birdlife, monkeys and more. Travelers enjoy a glimpse of Peru's legends during a day excursion on the Island of the Sun in Lake Titicaca, where they drink from a sacred Inca fountain, believed to grant eternal youth and happiness. Highlighting the itinerary are boutique accommodations at the Casa Andina Private Collection properties and the award-winning Inkaterra Reserva Amazonica. Prices for Southern Peru tours start at $4,498.
Amazon Voyage
Guests on the 10-day Amazon expedition cruise travel approximately 600 miles into the narrow tributaries of the Amazon aboard the 24-passenger riverboat Aquamarina, enjoying chances of rare wildlife sightings. Daily outings on this small-ship adventure take travelers deep into the Pacaya-Samiria National Reserve to spot diverse wildlife and even fish for piranha. Excursions during August and September's low-water season offer the opportunity for deeper hikes into the seasonally-flooded reaches of the rainforest. Plus, this time of year features a greater concentration of pink dolphins and village visits at the height of the planting season. Prices for Amazon River cruises start at $3,898.
"Our naturalists must have had binoculars for eyes! To see pygmy marmosets three times was unbelievable," said Amazon cruise passengers Betty and Steve Wing of Missoula, Mont. "We got to personally know the naturalists and crew of the Aquamarina more than any other cruise we have taken."
Celebrating 32 years of nature travel, International Expeditions specializes in small-group journeys to Earth's most exhilarating destinations. A pioneer of environmentally responsible travel, IE is committed to preserving natural habitats and improving the welfare of the people and communities it visits. International Expeditions has been named seven times to Travel + Leisure's list of "World's Best" tour operators & safari outfitters and to National Geographic ADVENTURE magazine's list of "Best Adventure Travel Companies on Earth."
For more information or a brochure, call International Expeditions at 1-800-234-9620 or visit http://www.IEtravel.com.