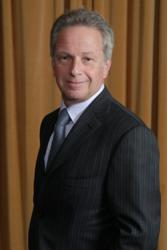 New York, NY (PRWEB) July 11, 2012
The board of directors of the Lymphoma Research Foundation (LRF) has elected Steven J. Prince Chairman of the nation's largest non-profit organization devoted exclusively to funding innovative lymphoma research and to serving those touched by the disease. The LRF board of directors is responsible for supporting the mission, policies and activities of the Foundation; establishing policies and programmatic goals; and monitoring the organization's finances. Prince assumed the role on July 1, 2012 from Errol M. Cook, former managing director and partner of Warburg Pincus.
"In the selection of Steven Prince as Chairman, the Foundation reaffirms its commitment to supporting inventive biomedical research and expert patient programs," said Diane Blum, LRF Chief Executive Officer. "His proven leadership, creative vision, and personal commitment to the LRF mission will guide the organization as it strives to achieve its mission and meet the needs of the lymphoma community."
As Chairman, Prince will lead the Foundation's board of directors in its mission to eradicate lymphoma and assist those who have been affected by a lymphoma diagnosis. He will play a vital role in outreach to the corporate and philanthropic communities, participate in LRF educational and outreach efforts, and work with the Foundation's senior leadership to set and measure strategic objectives for the organization.
"My commitment to the Foundation stems not only from my personal experience as a cancer survivor, but from LRF's significant impact in the field of lymphoma research and education," said Prince. "I am honored to help lead LRF to further increase the impact it has made in the areas of science, research, outreach and advocacy."
Prior to his retirement, Prince was a leader in the energy services and commodity products sector. He is the former Chairman and CEO of Sempra Commodities, and served in the same capacity for its predecessor company, AIG Trading Corporation.
His philanthropic work extends to several youth-based charities, including Let's Get Ready!, an education and mentoring program for disadvantaged students, and Chai Lifeline, a program which addresses the emotional, social, and financial needs of seriously ill children and their families. He also serves as the vice-president and an executive committee member of the Westchester Reform Temple. Prince holds a degree in economics from the Wharton School at the University of Pennsylvania. He and wife Debbie reside in Purchase, New York and have three children and one grandchild.
About the Lymphoma Research Foundation
The Lymphoma Research Foundation (LRF) is the nation's largest non-profit lymphoma organization devoted exclusively to funding innovative research and providing people with lymphoma and healthcare professionals with critical information on the disease. To date, LRF has awarded more than $51 million in lymphoma-specific research. For additional information on LRF's programs and services, visit lymphoma.org.