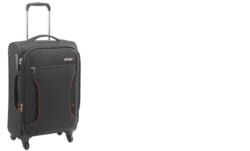 The Cyberlite is beautifully engineered for lightness.
Kent (PRWEB UK) 12 July 2012
The Cyberlite is due to hit the online luggage site Luggage Superstore in the month of July 2012.
The Cyberlite is beautifully engineered for lightness. Some of the bonus features are the ability to expand. It has great front and side pockets and comfy grip handles with integrated side grab handle. Of course it comes with the ever growing popular TSA (Transportation Security Administration) lock.
The team at Luggage Superstore always gets exciting about launching new brands and this is certainly no exception. Paul Steadman, Managing Director says, "This is definitely value for money in soft side range of cases. It is spacious and incredibly lightweight and looks great, too."
This lightweight, beautifully designed case is sure to be a valuable addition to any traveller's collection. So, customers – Watch this space and site, of course.
Luggagesuperstore established site is in West Kingsdown, Kent. Their aim is providing competitive prices of the highest quality luggage and top calibre Customer Service for online luggage shopping.
Trina Chee-a-kwai
Luggage Superstore
01474 854666
Email information