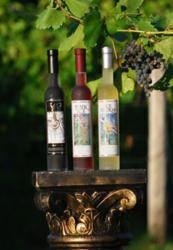 The country's only winery on the same road as a water park, a Zoo, and just minutes from over 50 restaurants.
Candia, NH (PRWEB) July 11, 2012
Candia Vineyards, an award-winning New England winery, recently medaled in the 19th Annual Amenti del Vino International Wine Competition. For over a decade, Candia Vineyards has won numerous awards at international competitions for its handcrafted, vault reserve wines. In the Amenti Del Vino competition, Candia Vineyards received the gold medal for its Black Ice and silver medals for its Ice Storm and Noiret wines.
"International entries are judged by a pretty discerning group of judges," said Bob Dabrowski, owner of Candia Vineyards. "It's very hard to win there. We were truly honored to be the only New Hampshire winery to win awards in 2012."
The Black Ice is one of Candia's most famous wines. It is an intense, memorable dessert wine that boasts New Hampshires only world-ranked label. Ice Storm is also a highly ranked, intensely sweet dessert wine. Candia Vineyards describes their Noiret as "dry, intense, and one of the richest wines from a cold-hardy grape made in New England."
The Amenti Del Vino, a premiere wine society, was established in 1971 to enhance the discernment and appreciation of fine wines and give recognition to distinguished wine producers. The international wine competition is an annual event that brings together some of the most famous and award-winning wines in the world. Candia Vineyards offers several distinctive award-winning table and dessert wines, each made with 100 percent grapes and without fillers, flavorings or foreign grapes. Candia Vineyards' handcrafted wine is available at the vineyard in Candia, New Hampshire and at stores across the state, including the Hampton Falls Village Market, Bella Vino & Hannaford's, and numerous other locales. For more information about the exclusive selection of wines at Candia Vineyards, visit their website at http://www.candiavineyards.com.
About the company:
Candia Vineyards is a boutique Vineyard that specializes in fine table wines from grapes. Their products, processes and labels are meant to convey their dedication to hard work, quality, history and romance. With traditionally correct food pairings, their wines transform a good meal into a memorable one. Social occasions are enhanced by the inclusion of a favorite Candia Vineyards wine. Candia Vineyards has won world-class medals in National and International competitions. For more information visit their website at http://www.CandiaVineyards.com.