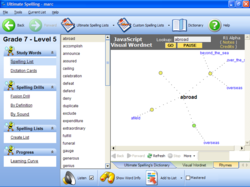 The idea behind Word Discover™ is to really help words come to life.
New York City, NY (PRWEB) July 12, 2012
Ultimate Spelling™ has grown to become one of the world's most respected spelling tutorial software packages. Following a recent upgrade, the software now boasts a dictionary containing 142,647 words.
However, as Marc Slater explains, the impressive word count is just the beginning:
"Our dictionary also contains a very special technology known as Word Discover™. This automatically displays a wealth of information about each and every word contained in our dictionary, making them even more fun and easy to learn" says Slater, Managing Director of the company behind the Ultimate Spelling™ platform.
All information within Word Discover™ is available with a single click. Information includes audio pronunciations, a visual word explorer, entries from Wikipedia and other online resources, rhymes, images, etymology and much, much more.
"The idea behind Word Discover™ is to really help words come to life. Rather than presenting each word in a static sense it can now be put into a myriad of different concepts. This has been proven to instantly engage users and help them apply each word to everyday life" Slater adds.
The software's 2012 upgrade has also introduced a number of other exciting features. In particular, the upgrade has connected Ultimate Spelling™ with the online world, establishing a direct link with sites including Wikipedia, Wiktionary and Google Images.
These latest features ship as standard with all new Ultimate Spelling™ purchases. Existing users are able to upgrade their current software version for a nominal fee.
"We plan to continue developing our Ultimate Spelling™ platform well into the future. Our team is always researching the latest concepts and active-learning methods, with a view to helping people improve spelling in an easy and fun way" Slater concludes.
For more information, please visit the official Ultimate Spelling™ website at: http://www.ultimatespelling.com
******
About Ultimate Spelling™.
Ultimate Spelling provides a modern and easy to use spelling software that has been designed with one goal in mind – making children WANT to learn.
It is a fast and easy way to master even the most complicated spelling, without the need to write long lists or complete boring tests.
In fact, Ultimate Spelling provides more than just spelling help. It is a complete educational resource that boosts all level of a child's literacy.
Containing a personal computer tutor, Ultimate Spelling is the most realistic step-by-step guide to flawless spelling ability.