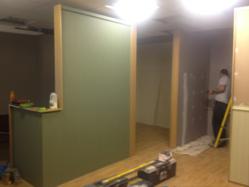 We do supply bathroom goods of excellence which gained the clientele's faith. We did receive overwhelmed response to the online trading. As a token of gratitude to the cherished clients, we decided on commencing public showroom
Leicester, Leicester Shire (PRWEB) July 11, 2012
QS Supplies announce of inaugurating public showroom by anytime in the month of July. So far, the company ran the virtual store of contemporary bathroom accessories and bathroom furniture, where the customers need not visit physically. Hereafter, customers can avail the showroom facility by viewing and purchasing the bathroom products of their choice.
QS Supplies' unparalleled triumph in the trade of bathroom accessories is undeniably praiseworthy. The company runs the online store of bathroom products for more than two decades. Its trustworthiness fetched unlimited amount of clientele, owing to whom the business raised to the extent of launching public showroom. QS Supplies, initiated in the year 1990, flourished in online service of supplying luxury bathroom artifacts, just as a consequence of maintaining the best quality in the industry. The company served the customers by delivering the bathroom items of their choice by taking online orders.
The ease in ordering and purchasing through online facility fascinated the clientele to a large extent. The reliability the company sustained enhanced the clients' trust further. Mr.Russel at QS Supplies said, "We do supply bathroom goods of excellence which gained the clientele's faith. We did receive overwhelmed response to the online trading. As a token of gratitude to the cherished clients, we decided on commencing public showroom, inauguration of which is likely to occur in mid July". He added saying, "We are sure of receiving the similar response to the public showroom". It is apparent that QS Supplies attract a multitude of patrons based on the mentioned facts.
A wide array of bathroom items at the company's cache provides plentiful choice to the clients. Furthermore, the company entertains clients' genuine criticism over any article they purchase. QS Supplies ensure utmost privacy to the customers. They never share the customers' information with any third party.
There are various factors that prompted QS Supplies to commence the public showroom, apart from the existing online store. Mr. Taf at QS Supplies said, "We are glad to receive such an exalting response from clients. The magnitude of the demand for the products we supply forced us to start the public showroom," he added, "We pledge to serve the clientele with prompt service through the public showroom as we always do through the online stores". More updates on the showroom can be found at their Bathroom Blog