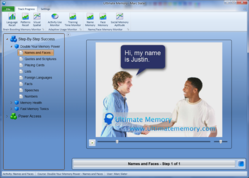 Each strategy is designed to be directly applicable to real life.
New York, NY (PRWEB) July 13, 2012
Having already helped thousands of people to develop a more solid and healthier memory, Ultimate Memory™ today announces a game-changing suite of new memory training techniques.
The popular memory improvement software takes an innovative 'two-pronged' approach to memory improvement. The first comprises of special memory-building games that are scientifically designed to boost memory. This is then combined with specific strategies and techniques that help each user remember what they need to the most.
"Each of these approaches is extremely powerful by itself. However, when combined, the results can be truly mind-blowing" says Marc Slater, Managing Director of the company behind the Ultimate Memory™ platform.
He continues, "The software even contains a number of special 'video workshops', each designed to teach specific and powerful strategies."
These strategies include how to remember names, faces, quotes and scriptures, playing cards, lists, facts, speeches and even complex sequences of numbers.
"Each strategy is designed to be directly applicable to real life. From remembering an important speech through to improving work performance through the easy recall of people's names, users are covered in all areas" Slater adds.
Thousands of people around the world are already using the Ultimate Memory™ platform with exciting results. From children at school to professionals and their families, the software's powerful strategies are changing the lives of many.
The Ultimate Memory™ software is available for immediate download from its [official website. The site also contains further details of exciting features and an endless list of positive testimonials.
To find out more, simply visit: http://www.ultimatememory.com
About Ultimate Memory™
Ultimate Memory™ is the market's leading memory improvement software package.
Scientifically proven to improve memory with as little as ten minute's user per day, Ultimate Memory™ is also backed by an iron-clad guarantee.
Containing many innovative strategies, tutorials, tips and exercises, users benefit from a myriad of varied ways to learn.
# # #