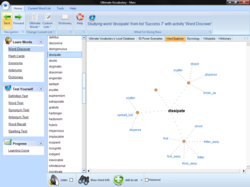 We want people to share the fun and excitement of vocabulary improvement with everyone they know.
New York City, NY (PRWEB) July 14, 2012
Following over three years of research and development, Ultimate Vocabulary™ has impressed the market with its 2012 upgrade. Among the game-changing new features is an exciting and innovative step-by-step training feature.
"The feature literally takes users by the hands and guides them towards a more powerful vocabulary" explains Marc Slater, Managing Director of the company behind the Ultimate Vocabulary™ software.
He continues, "Instead of giving users a set of tools and expecting them to go it alone, our system shows people exactly what to do and how to do it. This allows users to improve their vocabulary much faster and even shave months off their learning curve!"
Many users have commented that the feature is like having a physical instructor in the room with them. In reality, the industry-leading computer technology is providing a virtual instructor that is always ready to work.
The lessons themselves are created by globally respected vocabulary experts. With the aim of making vocabulary improvement simple and fun, the engaging instructors ensure that users don't get lost and are always on track.
"Our experts created fifteen very in-depth lessons. These allow the Ultimate Vocabulary™ platform to stand head and shoulders above other vocabulary improvement software packages on the market."
The entire system can be downloaded from the official Ultimate Vocabulary™ website, allowing users to get to work right away.
Users can create accounts for themselves, their friends and even their co-workers. In fact, the software was specially designed with the ability to create an unlimited number of accounts.
"We want people to share the fun and excitement of vocabulary improvement with everyone they know. Therefore, users can create as many accounts as they want to, for anyone they choose" Slater concludes.
To find out more, visit the Ultimate Vocabulary™ website.
******
About Ultimate Vocabulary™
Ultimate Vocabulary provides a proven and powerful platform, built to improve anyone's vocabulary.
The interactive self-improvement system provides more learning tools than any other program on the market, as well as more information on words.
The Ultimate Vocabulary software provides each and every user with a personal computer tutor.
Providing a step-by-step guide to learning a powerful vocabulary, Ultimate Vocabulary is the learning tool everyone can benefit from.
Of course, the software is also backed by eReflect's iron-clad money back guarantee.