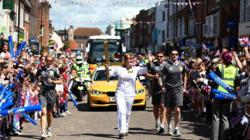 Today, more Coca-Cola Future Flames will help us celebrate the fifty-fourth day of our amazing journey, including Joe Robinson and Gabriella Houseman who carry the Olympic Flame in Theale and Newbury
(PRWEB) July 11, 2012
On Wednesday 11 July, the London 2012 Olympic Torch Relay – presented by Coca-Cola, Lloyds TSB and Samsung – will travel 105.35 miles through 13 communities on its journey from Reading to Salisbury.

On Wednesday 11 July the Relay will travel 105 miles
120 Torchbearers will carry the Flame
Evening celebration to take place at Hudson Fields, Salisbury
Images from today can be downloaded here
The Flame will be carried through the following communities: Reading, Theale, Thatcham, Newbury, Basingstoke, Kings Worthy, Winchester, Andover, Ludgershall, Tidworth, Amesbury, The Winterbournes and Salisbury.
Highlights for tomorrow include:
7.59am – Lee Umpleby, 34, from Reading, will start with the Flame at Caversham Court Gardens. Lee was nominated by Reading City Council through the LOCOG programme for his outstanding work as a community police officer.
12.33pm – In Basingstoke a Torchbearer will run along London Street, the same stretch of route as a Torchbearer in the 1948 Olympic Torch Relay.
1.51pm – Kirstie Nash, 18, from Winchester, will carry the Flame to Winchester Cathedral. Kirstie was nominated through the LOCOG public nomination campaign for the help and support that she gives to her disabled sister.
6.50pm – The last Torchbearer of the day, Dolly Burnett, 49, from Salisbury, who was put forward by Salisbury City Council for her years of voluntary work with young people will carry the Flame into the Evening Celebration at Hudson Field, Salisbury.
The London 2012 Torch Relay evening celebration will take place at Hudson Field, Salisbury. The show begins at 1pm and run until 10pm, featuring a variety of entertainment staged by LOCOG and the three Presenting Partners of the London 2012 Olympic Torch Relay - Coca-Cola, Lloyds TSB and Samsung - with support from Salisbury City Council.
The line-up includes music from chart topping, Wretch 32, a dance troupe who will provide a unique fusion of street performance, theatre and sport and dance act Twist and Pulse. There will also be entertainment from local acts staged by Wiltshire Council such as the Salisbury Plain Military Wives, City Stereo and These Days.
Just before 7pm, the last Torchbearer of the day - Dolly Burnett - will light a celebration cauldron on stage at the event which will enable the Olympic Flame to be seen by the audience.
Torchbearer highlights:
George Weedon, 92, is carrying the Flame in Reading. George was a gymnast in the 1948 Olympic Games. In 1948 in London he participated in the Men's Individual All-Around, Team All-Around, Floor Exercise, Horse Vault, Parallel Bars, Horizontal Bar, Rings, and Pommell Horse, placing 12th out of 16 nations in the team competition.
Clare Balding is carrying the Flame in Newbury. Clare has been involved in sport all her life, both as a competitor in various equestrian disciplines and as a presenter for radio and television. She hails from the Hampshire/Berkshire border area and is also a patron of Riding for the Disabled and the British Paralympic Association, two organisations that promote the ideals of healing and restorative powers of sport.
Matthew Gaskell, 22, from Newbury, will carry the Flame in Reading. He was selected through the Lloyds TSB campaign. Matt lost his 44 year old aunt to cancer and saw the devastation of her young family. Determined to do something special he helped to organise an unsupported (everything pulled in sledges) expedition to the South Pole. At age 18 he became one of the youngest ever to walk there and helped raise over £150,000 to build a new cancer treatment unit which was completed in 2010 and now delivers 10,000 treatments/year. He continues to raise funds.
Gabriella Houseman, 17, from Wallingford selected through the Coca-Cola Future Flames programme will carry the Flame in Newbury. Gabriella has represented Great Britain in fencing championships in Hungary, Italy and France and is also captain of sport at her school and coaches the younger girls.
Millie Clifford, 19, from Salisbury, selected through the Samsung campaign, will carry the Flame in The Winterbournes. Millie is a promising young athlete with her main events being 400 and 400 metres hurdles. She has competed in events at Gateshead, Loughborough and at Bedford for the Junior AAA championships. She is deeply involved in the coaching and training of younger athletes. She has two younger sisters, Harriet the younger is Learning Disabled and Millie plays her part in helping to look after her. As a consequence of this family link with mental handicap, Millie takes a voluntary job each summer helping to run a local authority organised summer activity programme for the Children's Disability Team.
Alex Protheroe, 29, from Salisbury was selected through the LOCOG Moment to Shine campaign for improving attainment levels in GSCE PE at The Stonehenge School, for his commitment to coaching and for his hard work and dedication more broadly. Alex will carry the Flame in Salisbury.
James Williams, Director, Olympic Torch Relay, Coca-Cola Northwest Europe & Nordics, said: 'Today, more Coca-Cola Future Flames will help us celebrate the fifty-fourth day of our amazing journey, including Joe Robinson and Gabriella Houseman who carry the Olympic Flame in Theale and Newbury. We will also get everyone to Move to the Beat tonight as we bring Wretch 32 to the stage in Salisbury.'
Sally Hancock, Director, London 2012 Partnership at Lloyds Banking Group, said: 'We are looking forward to continuing our amazing journey on the Olympic Torch Relay and are inviting each community to come out in force to feel the excitement of London 2012. Lloyds TSB is creating as many opportunities as possible for people between Reading and Salisbury to get involved as the Olympic Flame passes their door. We're calling on everyone to cheer their local Lloyds TSB Torchbearers – extraordinary people like Sarah Firth and Nick Simon, carrying the Flame in Reading and Ludgershall today. Our troupe of performers, the Flame Followers, are lighting up the celebrations along the route ahead of the Relay before their Flame Followers Spectacular in Salisbury tonight.'
Sunny Hwang, Vice President & Head of Global Sports Marketing, Samsung Electronics, said: 'Samsung is delighted to be a Presenting Partner of the Olympic Torch Relay as it has given us the perfect opportunity to encourage everyone from all around the world to be involved in the Olympic Games.'
For further information please contact the London 2012 Press Office .
Notes to editors:
Each day two short packages of broadcast footage will be made available. The packages will be available via the Footage library – accessible from the Media Centre on london2012.com. Media will need to register for access in advance. Registration is free.
The broadcast of the Olympic Torch Relay is provided for Editorial Use Only. There can be no commercial association, no third party association and no commercial/ad superimposition on the video footage, unless the prior written consent of the IOC is acquired.
About the London 2012 Olympic Torch Relay Presenting Partners:
As the longest standing Presenting Partner of the Olympic Torch Relay, Coca-Cola will be using its heritage and experience to spread excitement across the UK ahead of London 2012. Coca-Cola's national nomination campaign - Future Flames – has focused on finding inspirational young people from across the country to have the once in a lifetime opportunity to carry the Olympic Flame. This summer Coca-Cola will celebrate these Future Flames: young people who use their passions in areas like sport and physical activity, music and dance, and community and the environment; to spread happiness in their local communities. Find out more at: http://www.coca-cola.co.uk/olympic-games
As the only National Presenting Partner of the London 2012 Olympic Torch Relay, Lloyds TSB will be taking the inspiration and excitement of the Olympic Flame right to the heart of communities across the UK. As part of Lloyds Banking Group, Bank of Scotland will be the National Presenting Partner in Scotland. We are creating as many opportunities as possible for communities the length and breadth of the UK to get involved as the Flame travels past their front doors.
Lloyds Banking Group is Britain's biggest corporate investor in UK communities and in 2011 invested £85 million and as part of the Group's Community Investment Programme, we've launched the Lloyds Banking Group Community Fund to give back to the communities in which we operate and pass through on our journey with the Olympic Flame. We're inviting everyone to visit the Lloyds TSB stand at each Evening Celebration to vote for a community project in their area that inspires and supports young people. By voting at the Evening Celebration members of the public will automatically enter a draw to win four tickets to London 2012.
The two projects that receive the most votes at each locality will each win a £5,000 grant from Lloyds Banking Group. At the Lloyds TSB site members of the public will also have the opportunity to have their photo taken with the Olympic Torch, meet Lloyds TSB Local Heroes – the future stars of Team GB and ParalympicsGB – and get up close to our Flame Followers. To find out how you can join in the celebrations with Lloyds TSB. (in your community please visit http://www.lloydstsb.com/london2012)
As a Presenting Partner of the London 2012 Olympic Torch Relay, Samsung aims to encourage everyone to be part of the greatest show on Earth to make London 2012 'Everyone's Olympic Games.' We aspire to offer new and memorable experiences for everyone around the world through our own innovative and smart wireless technology. Samsung is providing 1,360 Torchbearers, who have "gone the extra mile" by contributing to the local communities, through its worldwide public nomination campaign. In total over 25,000 nominations were received. Samsung will support towns and cities to celebrate the exciting moment of the Torch Relay and help showcase Great Britain's cultural landmarks to provide a more enjoyable experience to everyone. The evening celebrations that will be staged by Samsung in 66 towns and cities throughout the Olympic Flame's journey across the UK, will allow Samsung to entertain the community they are visiting. The Samsung caravan, complete with LED screen on the side showcasing runners and goodwill messages, will follow the Torchbearers around the UK cheering up everyone to celebrate the Torch Relay with music and interaction with local communities. It is Samsung's ambition that London 2012 will be an event that reaches and involves more people than on any other Olympic Games occasion. To learn more about Samsung's London 2012 Olympic programme, please visit http://www.samsung.com/uk/london2012/.
The BBC will be providing extensive coverage of the Torch Relay on television, radio and online. This will include special Breakfast shows on every BBC local radio station, and extended live coverage of an evening celebration event in every Nation and English Region. Full details of the coverage will be at bbc.co.uk/2012.
The Supporters of the London 2012 Olympic Torch Relay are:
Worldwide Olympic Partners Procter and Gamble and Visa, Tier One Partners adidas, BMW, BP, British Airways, BT and EDF, Tier Three Providers Aggreko, Holiday Inn and NATURE VALLEY.
London 2012 Games partners:
The Worldwide Olympic Partners who support the London 2012 Olympic Games and the National Olympic Committees around the world are Coca-Cola, Acer, Atos, Dow Chemical Company, GE, McDonald's, Omega, Panasonic, Procter and Gamble, Samsung and Visa.
LOCOG has seven domestic Tier One Partners - adidas, BMW, BP, British Airways, BT, EDF and Lloyds TSB. There are seven domestic Tier Two Supporters – Adecco, ArcelorMittal, Cadbury, Cisco, Deloitte, Thomas Cook and UPS.
There are now twenty-eight domestic Tier Three Suppliers and Providers – Aggreko, Airwave, Atkins, Boston Consulting Group, CBS Outdoor, Crystal CG, Eurostar, Freshfields Bruckhaus Deringer LLP, G4S, GSK, Gymnova, Heathrow Airport, Heineken UK, Holiday Inn, John Lewis, McCann Worldgroup, Mondo, NATURE VALLEY, Next, Nielsen, Populous, Rapiscan Systems, Rio Tinto, Technogym, Thames Water, Ticketmaster, Trebor and Westfield