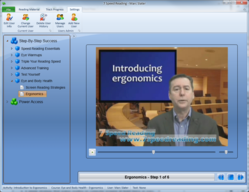 The problem is that, with most speed reading software packages, only three or four activities exist.
New York City, NY (PRWEB) July 18, 2012
Bad reading habits exist in everyone. Often developed during childhood, breaking these habits can be tough. With this in mind, 7 Speed Reading™ today announces fifteen scientifically-designed activities with one purpose – to automatically remove these bad habits for good.
"The problem is that, with most speed reading software packages, only three or four activities exist," says Marc Slater, Managing Director of the company behind the 7 Speed Reading™ software platform.
He continues, "Ours contains fifteen activities, each designed to tackle a different aspect of users' reading and comprehension capabilities."
In fact, 7 Speed Reading™ is the only speed reading software developed to train users in all of the areas required for them to reach their full potential.
These include areas such as Subvocalization Elimination (not saying words in the head while reading), Regression Elimination (removing the urge to unnecessarily go back over words and already read) and Eye Muscle Fitness.
"Don't get bogged down by the technicalities – users will only see and experience fun games and visual activities. The biological and mental changes take place behind-the-scenes, with the mind working and altering its behaviours automatically" Slater adds.
These activities result in reading speeds up to ten times faster than before, while simultaneously improving comprehension, memory and mental processing.
Everything is neatly contained within the 7 Speed Reading™ platform and available for instant download from the official 7 Speed Reading™ website. The software is already being used within thousands of different applications around the world. From the South Pacific to North America, people are continuing to learn of the great benefits afforded by the ability to read quicker.
To find out more and download 7 Speed Reading™ today, please visit: http://www.7speedreading.com
******
About 7 Speed Reading™
7 Speed Reading is the only modern speed reading software that uses the latest technology to produce superior results.
The software provides its users with a new way to master speed reading that guarantees three times the reading speed along with improved memory and comprehension.
The software is poised as the most comprehensive speed reading system anywhere. It contains seven learning strategies, fifteen software activities, video training, advanced tracking capabilities and many more exciting features.