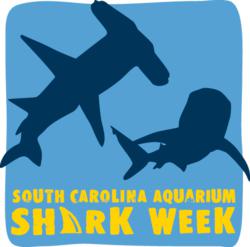 Charleston, SC (PRWEB) July 12, 2012
Do you know, almost 40 species of sharks are indigenous to the South Carolina coast? Do you also know you are more likely to be bitten by another human than by a shark? Learn all this and more during the South Carolina Aquarium's Shark Week celebration. Join the Aquarium starting Friday July 27th for Shark, Rattle and Roll, the official Shark Week kick-off party, then enjoy a week's worth of shark based activities including Jaws on the lawn.
Shark, Rattle and Roll Kick-off Party:
Get ready for some ferocious fun at the Aquarium's Shark, Rattle and Roll Shark Week kick-off party on July 27, 2012. This year's live music line-up includes local favorites Plane Jane and The Broadcast. There also will be drink specials, complimentary late night bites and giveaways from LandShark Lager. Tickets in advance are $20 for members and $25 for non-members. All tickets at the door are $30. Call (843) 577-FISH (3474) or visit http://www.scaquarium.org to purchase tickets.
Shark Week Activities:
Splash into Shark Week with tons of toothy fun! From "sharkeology" to shark themed dive shows, there's fun for all ages all week long:

Interactive shark themed dive shows with underwater question and answer sessions
Shark carts set up throughout the Aquarium
Shark themed crafts
Shark photo-opportunities
Shark games and interactives like "sharkeology"
Come see 4 different species of sharks in the deepest tank in North America!
Jaws on the Lawn:
Wrap up with Shark Week by falling in love with your favorite classic shark movie all over again during the Aquarium's Movie on the Lawn featuring the 1975 summer hit "Jaws". On August 2, 2012 bring your blanket and chairs and pick a spot on Liberty Square in front of the Aquarium to watch the movie which will be shown on the big screen. Before the movie starts, interact with roving educators and watch an Aquarium-made video on shark myths. The event is free to the public, no coolers or pets will be allowed. Snacks, sodas and alcoholic beverages will be available for purchase. The lawn opens at 7 p.m. with the movie beginning at dark.
Thanks in part to our Shark Week sponsors:
LandShark Lager (http://www.landsharklager.com), Awendaw Green (http://www.awendawgreen.com), PDA (http://www.pdastage.com), IceBox, Inc. (http://www.iceboxbar.com), FOX 24 (http://www.FoxCharleston.com), Y102.5 (http://www.y1025.com) and the Charleston City Paper (http://www.citypaper.com)
For all media inquiries, please contact Kate Dittloff at (843) 579-8660 or kdittloff(at)scaquarium(dot)org.
About the South Carolina Aquarium:
The South Carolina Aquarium, Charleston's most visited attraction, features thousands of amazing aquatic animals from river otters and sharks to loggerhead turtles in more than 60 exhibits representing the rich biodiversity of South Carolina from the mountains to the sea. Dedicated to promoting education and conservation, the Aquarium also presents fabulous views of Charleston harbor and interactive exhibits and programs for visitors of all ages.
The South Carolina Aquarium, a 501(c)(3) not-for-profit organization and is open Daily from 9 a.m. to 5 p.m. The Aquarium is closed Thanksgiving Day, half day Dec. 24 (open 9 a.m. to 1 p.m.) and Dec. 25. Admission prices are: Toddler's (3 and under) free; Youth (4-12) $14.95; Adults (13+) $24.95. The Aquarium plus the 4-D Theater experience is free for Toddler's, $19.95 for Children, $29.95 for Adults. The 4-D Theater experience only is $6.95 for Children and adults, and free for Members. For more information call 843-720-1990 or visit scaquarium.org. Memberships are available by calling 843-577-FISH.
###