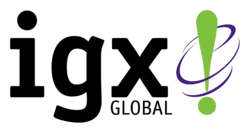 Rocky Hill, CT (PRWEB) July 13, 2012
This level of partnership ensures igxglobal clients that they are receiving the highest possible discounts on products as well as expert technical support on Juniper Networks offerings. igxglobal has met these requirements and has been accepted as a Juniper Elite Portfolio Partner.
This achievement is another step in igxglobal's commitment to provide its clients with expert level support and competitive pricing. Juniper has been an important partner in igxglobal's growth and its acceptance into the Elite Portfolio program confirms its knowledge and capabilities in routing, switching, firewall and policy and access.
"Juniper Networks' new Partner Advantage program has been developed to insure customers that they are working with fully certified and committed resellers. This program requires the partner to invest in continued authorized training and certification. I am very excited that igxglobal was invited and once we achieved the necessary certification levels, accepted as a Elite Portfolio partner," John Hasty, Director of Technical Services at igxglobal.
The Juniper Partner Advantage program has been designed to help its partners cultivate deep customer relationships and, at the same time, effectively respond to the macro trends that are driving change across the entire industry. Juniper Networks Partner Advantage represents a new level of engagement. It offers innovative methods for driving incremental revenue and betters the bottom line with an unparalleled refocus on mutual opportunites for all its Elite Program members.
igxglobal will continue to build and develop its technical team and sales team to provide expert level support to its clients across all regions of the world.
About igxglobal
igxglobal provides information technology services and solutions designed to improve the performance, infrastructure and security of our clients' operations.
At igxglobal we are committed to helping our customers operate their networks with more security, efficiency and reliability. We pledge to understand your business model, your customers, and your expectations in order to provide you with the most viable information technology solution.
With a customer focused approach and a comprehensive life cycle model of solutions, we will be your long term partners in ensuring the performance, infrastructure and security of your information networks.
These solutions are systematically delivered in our core competencies of:

Threat Mitigation Services.
Security Products.
Professional Services.
Security Operations Services.
Whether your needs warrant pre or post intelligence, or the operation is handled by your resources or ours, igxglobal has the experience, expertise and knowledge to reduce your risk and simplify your approach in order to achieve predictability with security.